Nigeria go top of AFCON qualifying group with Libya win
Nigeria Coach Gernot Rohr says his Super Eagles team showed character after surrendering a two-goal lead to win 3-2 against Libya in Sfax in a 2019 African Cup of Nations qualifier on Tuesday.
The crucial away win in Group E takes the three-time African champions to top of Group E of the qualifying series, deposing South Africa.
"I congratulate my team for this victory. It was a huge test of our character. We lost a two-goal lead but fought hard instead of dropping our heads. We will stay humble because we have not qualified for AFCON yet. We keep fighting," an excited Rohr said after the game.
Having not scored in 13 months, including all pre –World Cup friendlies and at the FIFA World Cup finals in Russia, Odion Ighalo added two to the hat –trick he netted in Uyo, for a total of five in three days.
Leicester City man, Wilfred Ndidi will miss Nigeria's next game next month away to South Africa after a second yellow card in the series. He was cautioned for a needless infringement late on Tuesday.
Victory took Nigeria to nine points after four matches, one above South Africa's Bafana Bafana who drew 0-0 with Seychelles in Mahe Island earlier in the day. Libya have four points while Seychelles have only one.
The Super Eagles tackle the Bafana Bafana in a potentially –explosive duel in a top-of-the-table clash at Johannesburg's Soccer City on November 17.
The astronomical rise of the English Premier League and Sports Betting
Football is certainly the number one sports in the world and accounts for over a billion followership worldwide. Football is not just huge because of it's amazing following all over the world but it is also a money spinner in many ways.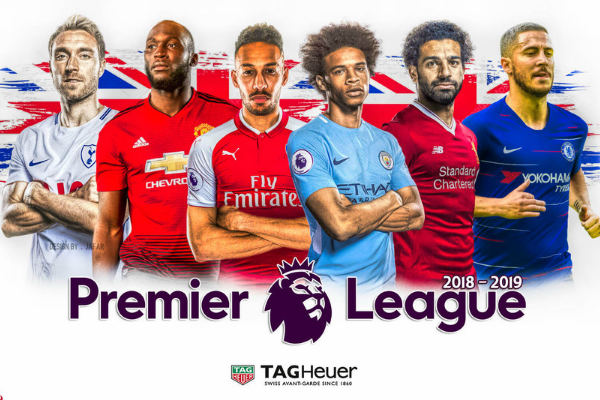 The FIFA world cup is football's premier event world and according to a report from the New York Times, the 2018 world cup staged in Russia saw the World football governing body raking in over $6.1 billion. The revenue source for FIFA includes gate takings and sponsorship and partnerships with some of the biggest companies and franchise in the world. The thirty-two countries that participated shared over $400 million in prize money.
While FIFA's stream of income is mainly dependent on its periodic tournaments, the European leagues are fast becoming cash cows for their countries. The German Bundesliga, French Ligue One, Italian Serie A, the Spanish La Liga, and the English Premier league are the elite leagues that have attracted cult followership all across the globe. The UEFA champions league which is an annual tourney to determine the numero uno amongst all the top European clubs is the icing on the cake that has made European football a mecca of sorts.
But over the last two decades, the meteoric rise of the English premier league has continued to astound followers of the round leather game. The Premier League is the biggest in terms of revenue generated, followership all around the world and TV viewership. English clubs like Arsenal, Chelsea, Manchester City, Manchester United, and Liverpool have a worldwide fan base that accounts for 600 million people in 200 countries watching via TV and the internet every weekend.
Premier League TV tights games for the 2019-2022 was sold for £4.464bn to Sky Sports and BT sports with the remaining batch of TV rights still to be contested for. Social media giants like Facebook and Amazon are locked in a hot contest to acquire the remaining tranche of the rights. This is a pointer to the fact that the premier league is going to be on top of league football for many years to come.
But what is the reason for the astronomical rise of England's Premier League? It's quite simple actually. It's down to what I call democracy. In England, revenues are shared from top to bottom irrespective of your actual contribution or position at the end of the season. Every club gets a chunk of revenues from domestic and international TV rights. This sets England apart from all the other leagues. In the other leagues, a larger chunk of the revenue generated from TV rights is shared by just the top teams such as what is evident in the Spanish LA Liga, where the top teams Real Madrid, Barcelona, and Atletico Madrid take a significant portion and just some few million Euros is shared among the lower cadre. What this means is that while all the clubs in England have enough money to develop their facilities and also court some of the best players anywhere in the world, only the top teams can afford to do that in other parts of Europe.
In England, the best of the best converge. This makes the league competitive. At the start of every season, the top six clubs- Manchester City, Liverpool, Arsenal, Manchester United, Chelsea, and Tottenham Hotspur have a chance of winning the league. In the last ten seasons, no one club has won the league back to back. This is not the case in other parts of Europe. Juventus has all but won the Scudetto for the seventh time in a row. In Spain, Barcelona is on course to win the domestic double for the second successive season. Bayern Munich looks likely to win it's fifth Bundesliga title. The other leagues are not as competitive as the English premier league.
English clubs also boast of some of the best sporting facilities in the world. Tottenham Hotspur just moved into its £1billion stadium at White Hart Lane. Theatre of Dreams, Manchester United's home ground sits a capacity of over 70, 000 and many other home grounds of these clubs serve as opportunities to hit multiple streams of income such as season tickets and stadium tours. English football fans can go any length to support their clubs including paying huge amounts to watch their team play live and also buy club memorabilia. This is why the English premier league is first among equals.
One industry which is profiting from the growth and spread of football is sports betting. The growth of sports betting has further been fuelled by an increasingly globalized world and rapid internet penetration. Countries like Nigeria, Kenya, Ghana, Uganda, Senegal, the Democratic Republic of Congo, and Tanzania are seeing a huge expansion in sports betting and other forms of gambling. While there is an influx of sports betting company, just a few have been able to set the pace with best practices and nice betting experience. One of such online sports company is NetBet.
NetBet which was established in 2001 is considered to be one of the largest and prestigious gaming enterprises in Europe because of its array of unique products ranging from sports, casino, live casino, games, poker and lottery. It's consistently and attention to details has made it one of the go-to site for online gaming.
NetBet's reputation is built on a fair and safe-playing experience which guards against scam and fraudulent transactions. NetBet has gambling licenses from the United Kingdom and Malta and this shows that there is no room for fraud or any other hand dealings.
NetBet has continued to set the pace in the online gaming industry by introducing eye-popping innovations and unique product offering. Its comprehensive sportsbook is very popular. There is also a unique innovative lottery section that sees live draws take place every few minutes, as well as the poker client – which offers cash games and tournaments
With over 450 games available to play on site, and with reputable firms such as Playtech, NetEntertainment, Amaya, iSoftBet, Aristocrat and High5Games providing software for NetBet, the world is getting better for online gamers.