EFCC has become a department in APC – Ortom
Benue State Governor Samuel Ortom yesterday alleged that the Economic and Financial Crimes Commission had become a department in the All Progressives Congress.
The governor also accused the anti-corruption body of being biased in its fight against corruption.
He spoke at the swearing-in ceremony for nine new commissioners who replaced those sacked in August.
Ortom said he would not succumb to any intimidation by the EFCC.
He said: "Despite intimidation from the EFCC that has become a department in APC, we are not going to be intimidated. In the past few months, civil servants working with me are being troubled for no just cause. Once you decamp from APC, EFCC comes after you. Fighting corruption should not be selective."
He said the EFCC had been on the heels of members of a committee for the burial of the late Tor Tiv following the sum of N120 million used for "the burial and settling of the deceased family."
The governor said:"if we do anything wrong we are ready to face the law. But we will not succumb to intimidation."
He also said that his administration could now pay workers' salaries as and when due because he had detached himself from godfatherism.
Ortom said since he left the APC for the Peoples' Democratic Party, he had fared well in salary payment as he was no longer under undue "pressure" to satisfy the caprices of certain 'men'.
"There is no godfatherism again in Benue under my watch. That is why you can see that since I detached myself from godfather, even salary I have been able to pay as at when due. I'm seeking for other ways in offsetting the remaining arrears of salaries.
"Since I left APC, I have been paying salaries. In APC, godfathers will not allow me but now I'm a free man," he said.
#Nigeria Decides: Corps members lament shoddy treatment
Members of the National Youths Service Corps (NYSC) have called on the Independent National Electoral Commission (INEC) to put adequate logistics in place, ahead of Saturday's elections.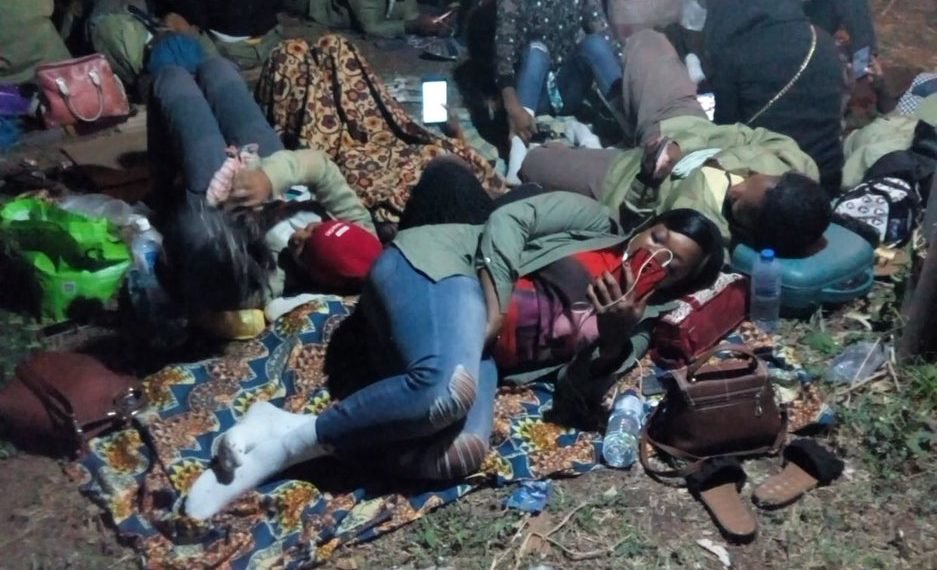 The Corps members lamented lack of security, inadequate transportation and the poor communication channel between them and the INEC officials.
They noted that they slept in the open fields, on bare floor and benches with election materials without security presence before the commission announced the elections' rescheduling.
It was gathered that in some of the schools, the NYSC members were posted to, the schools' gatemen were not aware they were coming. It was also learned that the corps members were alone in most of the schools overnight without policemen to provide security.
Many of the Corps members also lamented that they were at least expecting dinner to be served, mattresses and mosquito nets from INEC because they were told that they would be taken care of, but they got nothing.
A Corps member, Princess Ukaps, told The Nation that she and some of her colleagues were at the INEC office around 4 pm last Friday. She said they were there to check the names of their polling units and supervisors.
"After waiting endlessly, we moved to the primary school we were posted to and we got there few minutes to 9 pm. We were there hoping that INEC officials would come and address us. We also hoped they would give us food, mattresses and maybe mosquito nets because we were told that we would be taken care of.
"To our surprise, we waited endlessly and later went to look for food and drinks. I had to take my bath at the back of one of the classrooms in the school that night because I can never sleep without taking my bath. It was one woman in the school that gave me a bucket and water. I slept on a bench in one of the classrooms, but mosquitoes bite me seriously. Some slept on the floor in the classrooms. I learnt that at some other schools, the gatemen did not open the gates for the corps members and many had to sleep inside buses and on the floor on the roadsides. The experience was pathetic."
Another Corps member, who simply identified himself as Chinedu, who was attached to a local government on the Lagos Mainland, said the way many of them were treated last Friday was inhuman and uncalled for.
"INEC made us feel less of a human being. We were left to sleep in an open space and no one catered for us; no one communicated with us. When I and some of my friends got to the primary school we were posted to, we were expecting some of the INEC officials to come to the school for our final training. They told us at the previous training they had with us that they were would come to our polling units to give us final training on the election materials, card readers and all, but no one showed up. We all slept in an open space.