Ebonyi: APC governorship candidate promises aggressive reforms, if elected
The governorship candidate of the All Progressives Congress (APC) in Ebonyi, Sen. Sonni Ogbuoji says his administration will pursue aggressive reforms in all sectors if elected in 2019.
Ogbuoji, representing Ebonyi South Senatorial District in the Senate spoke in an interview with the News Agency of Nigeria (NAN), on Monday in Abakaliki.
He said that the APC administration would initiate policies and programmes to stimulate economic development, through establishment of functional industries and enthronement of credible governance if elected in 2019.
The governorship candidate said he would rehabilitate the education, health, agricultural and civil service sectors to ensure improved service delivery.
The senator decried lack of good governance and general maladministration in the state and promised to change the narrative if elected.
According to him, the APC government will strive to restore lost hope, recreate and reinvent Ebonyi to meet the dreams and aspirations for which the founding fathers fought for its creation.
"The present administration has impoverished the people by creating economic hardship and it has equally divided its people along ethnic lines contrary to the dreams and aspirations of the founding fathers.
"This is not the Ebonyi that late Dr Akanu Ibiam, Chief Martin Elechi and other founding fathers fought for.
"The APC as a government will recreate Ebonyi; we are going to give hope back to the people of the state and we are going to make sure that Ebonyi comes back to become that one single family for which it was created.
"Some of us were small boys working under Ibiam and we know what it took to get Ebonyi created in 1996," Ogbuoji said.
He said that youth and women economic empowerment would be given priority by his government if elected to strengthen their economic viability.
Ogbuoji cautioned the electorate against selling their Permanent Voter Cards (PVCs) and urged them to cast their votes wisely during the elections.
He pledged to run issue based violence free campaigns and restated his belief in the capacity and capability of the Independent National Electoral Commission (INEC) to conduct credible, free and transparent elections in Ebonyi.
#Nigeria Decides: Corps members lament shoddy treatment
Members of the National Youths Service Corps (NYSC) have called on the Independent National Electoral Commission (INEC) to put adequate logistics in place, ahead of Saturday's elections.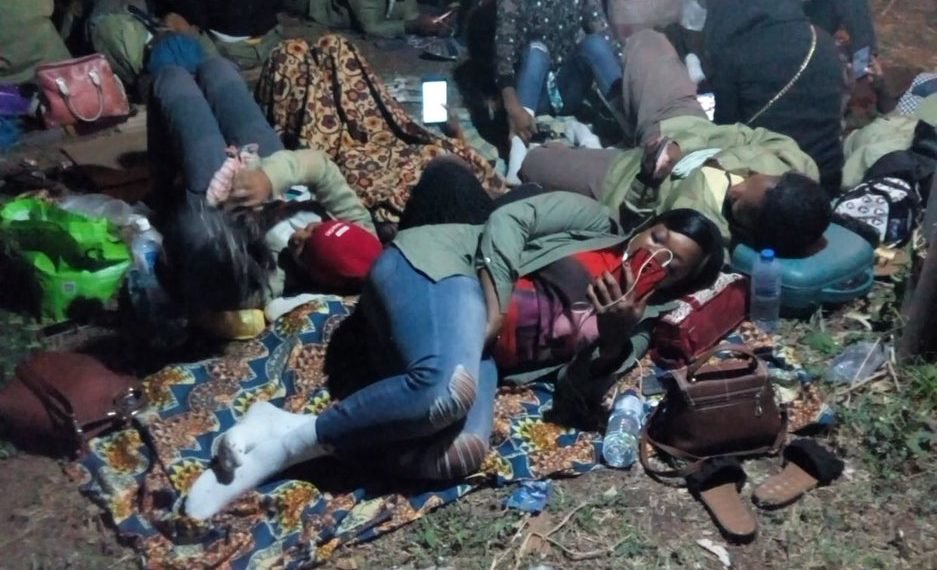 The Corps members lamented lack of security, inadequate transportation and the poor communication channel between them and the INEC officials.
They noted that they slept in the open fields, on bare floor and benches with election materials without security presence before the commission announced the elections' rescheduling.
It was gathered that in some of the schools, the NYSC members were posted to, the schools' gatemen were not aware they were coming. It was also learned that the corps members were alone in most of the schools overnight without policemen to provide security.
Many of the Corps members also lamented that they were at least expecting dinner to be served, mattresses and mosquito nets from INEC because they were told that they would be taken care of, but they got nothing.
A Corps member, Princess Ukaps, told The Nation that she and some of her colleagues were at the INEC office around 4 pm last Friday. She said they were there to check the names of their polling units and supervisors.
"After waiting endlessly, we moved to the primary school we were posted to and we got there few minutes to 9 pm. We were there hoping that INEC officials would come and address us. We also hoped they would give us food, mattresses and maybe mosquito nets because we were told that we would be taken care of.
"To our surprise, we waited endlessly and later went to look for food and drinks. I had to take my bath at the back of one of the classrooms in the school that night because I can never sleep without taking my bath. It was one woman in the school that gave me a bucket and water. I slept on a bench in one of the classrooms, but mosquitoes bite me seriously. Some slept on the floor in the classrooms. I learnt that at some other schools, the gatemen did not open the gates for the corps members and many had to sleep inside buses and on the floor on the roadsides. The experience was pathetic."
Another Corps member, who simply identified himself as Chinedu, who was attached to a local government on the Lagos Mainland, said the way many of them were treated last Friday was inhuman and uncalled for.
"INEC made us feel less of a human being. We were left to sleep in an open space and no one catered for us; no one communicated with us. When I and some of my friends got to the primary school we were posted to, we were expecting some of the INEC officials to come to the school for our final training. They told us at the previous training they had with us that they were would come to our polling units to give us final training on the election materials, card readers and all, but no one showed up. We all slept in an open space.