Borno: I will improve the welfare of the Nigerian Army – President Buhari
President Muhammadu Buhari on Wednesday reiterated his commitment to improving the welfare of the Nigerian Army.
Mr Buhari gave the assurance while addressing troops at Maimalari Cantonment, Maiduguri.
He said the troops were always on his mind, adding that "he had always woken up thinking about them and the conditions they operated".
"I will support you to play your constitutional role of defending the integrity of the country from both internal and external forces. "This is the oath you have taken just as I took an oath as the President and Commander-In-Chief.
"I assure you that I go to bed and always wake up thinking about you and the conditions under which you operate."
Mr Buhari asked the troops to maintain their loyalty and defend the country. "Whatever happens, a military no matter how equipped or how well led, without discipline is no use to the country,'' he said.
While commending the troops over their gallantry and sacrifices, Mr Buhari urged them to increase their commitment in engaging Boko Haram insurgents.
He said plans were on to adopt a new enhanced salary structure for the military in recognition of their contributions to security, social and economic development of the country.
The president also visited injured troops on admission at the Military Medical Centre, Maimalari Barracks, Maiduguri.
No fewer than 118 Nigerian soldiers of the 157 Battalion were massacred by Boko Haram insurgents on November 18 at the village of Metele, Borno State.
The initial figures of casualty were put at 44 but as more details emerged, it was reported that at least 118 soldiers and officers were killed with their commanding officer, Ibrahim Sakaba, while about 150 more soldiers and officers are still missing.
#Nigeria Decides: Corps members lament shoddy treatment
Members of the National Youths Service Corps (NYSC) have called on the Independent National Electoral Commission (INEC) to put adequate logistics in place, ahead of Saturday's elections.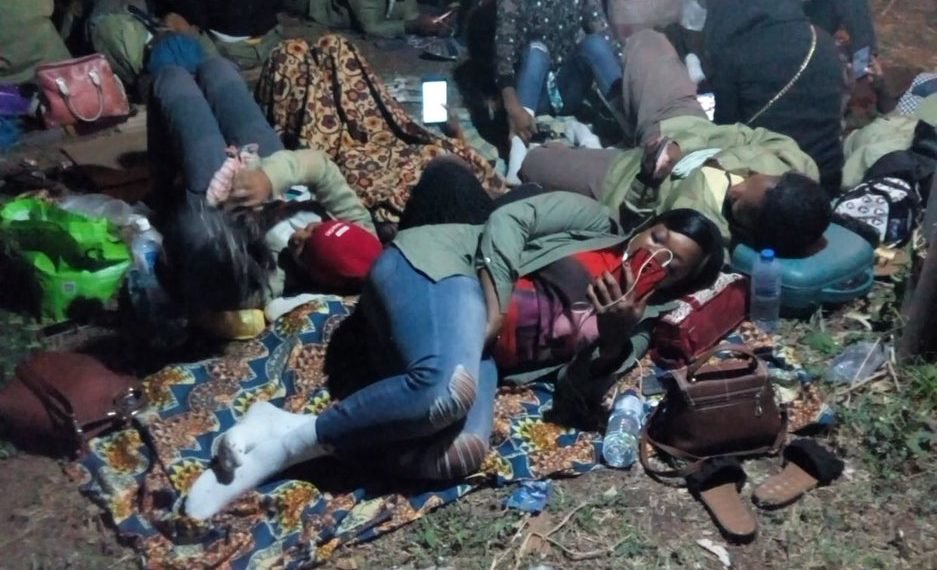 The Corps members lamented lack of security, inadequate transportation and the poor communication channel between them and the INEC officials.
They noted that they slept in the open fields, on bare floor and benches with election materials without security presence before the commission announced the elections' rescheduling.
It was gathered that in some of the schools, the NYSC members were posted to, the schools' gatemen were not aware they were coming. It was also learned that the corps members were alone in most of the schools overnight without policemen to provide security.
Many of the Corps members also lamented that they were at least expecting dinner to be served, mattresses and mosquito nets from INEC because they were told that they would be taken care of, but they got nothing.
A Corps member, Princess Ukaps, told The Nation that she and some of her colleagues were at the INEC office around 4 pm last Friday. She said they were there to check the names of their polling units and supervisors.
"After waiting endlessly, we moved to the primary school we were posted to and we got there few minutes to 9 pm. We were there hoping that INEC officials would come and address us. We also hoped they would give us food, mattresses and maybe mosquito nets because we were told that we would be taken care of.
"To our surprise, we waited endlessly and later went to look for food and drinks. I had to take my bath at the back of one of the classrooms in the school that night because I can never sleep without taking my bath. It was one woman in the school that gave me a bucket and water. I slept on a bench in one of the classrooms, but mosquitoes bite me seriously. Some slept on the floor in the classrooms. I learnt that at some other schools, the gatemen did not open the gates for the corps members and many had to sleep inside buses and on the floor on the roadsides. The experience was pathetic."
Another Corps member, who simply identified himself as Chinedu, who was attached to a local government on the Lagos Mainland, said the way many of them were treated last Friday was inhuman and uncalled for.
"INEC made us feel less of a human being. We were left to sleep in an open space and no one catered for us; no one communicated with us. When I and some of my friends got to the primary school we were posted to, we were expecting some of the INEC officials to come to the school for our final training. They told us at the previous training they had with us that they were would come to our polling units to give us final training on the election materials, card readers and all, but no one showed up. We all slept in an open space.