2019 Elections: EFCC is set to monitor campaign funds
Ibrahim Magu, acting chairman of the Economic and Financial Crimes Commission (EFCC), says the agency will monitor campaign funds donated to political parties for the 2019 elections as well as donors' identities.
Magu said this on Wednesday while presenting a paper at a one-day retreat for 36 state governors and key election stakeholders.
Represented by Olanipekun Olukoyede, his chief of staff, the EFCC chairman said the agency will not allow public funds to be diverted to fund political campaigns.
He said politicians are required to keep proper records of all donations received by them including the identities of the donors and be ready to show relevant security agencies at the end of the election.
"We shall keenly monitor the financial affairs of political parties to ensure that the use of public funds to finance political parties and prosecute campaigns at all levels of government is checked," he said.
"To minimize corruption and the use of public funds to fund political parties and finance elections, there is the need for greater effectiveness in enforcing the provisions of the various electoral laws in Nigeria especially as it relates to penalties upon breach of their provisions.
"Political parties should be required to keep proper records of all incomes, contributions, and expenditure, and to open their books for inspection by relevant security agencies after every electioneering cycle.
"In addition, politicians prosecuting campaigns must be required to keep proper records of all donations received by them including the identities of the donors; and to turn their books over to relevant security agencies, and to INEC for inspection after every electioneering cycle, including the costs of litigations arising from the elections and the source of funding for the litigations.
"We do not have the manpower and other resources to confront this hydra-headed monster alone. I implore fellow Nigerians to share credible intelligence with the commission on the activities of criminal politicians so that our tasks can be made easier."
Magu said anytime money is diverted by an administration to fund an election campaign, it is money being misappropriated for health, security, education, road construction, personnel costs and other amenities for the citizens.
#Nigeria Decides: Corps members lament shoddy treatment
Members of the National Youths Service Corps (NYSC) have called on the Independent National Electoral Commission (INEC) to put adequate logistics in place, ahead of Saturday's elections.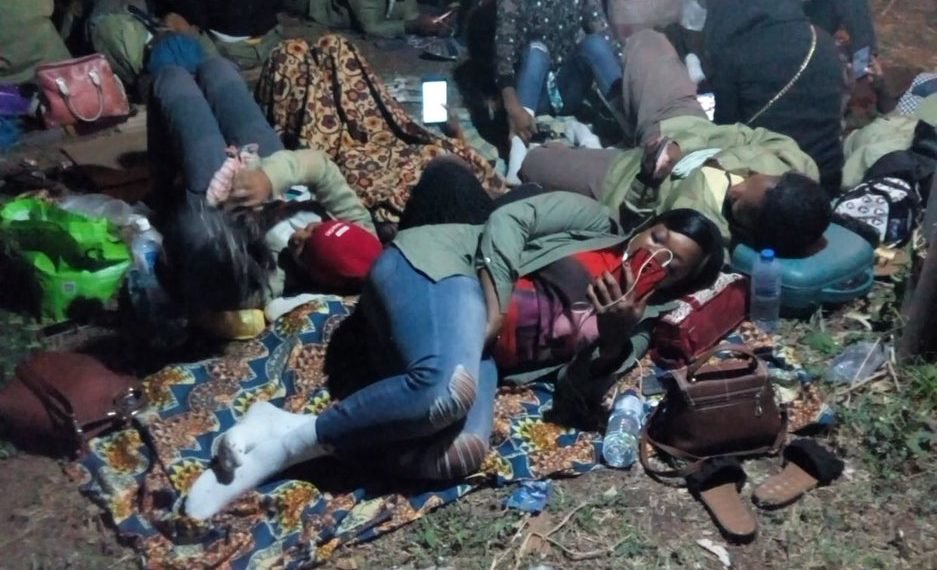 The Corps members lamented lack of security, inadequate transportation and the poor communication channel between them and the INEC officials.
They noted that they slept in the open fields, on bare floor and benches with election materials without security presence before the commission announced the elections' rescheduling.
It was gathered that in some of the schools, the NYSC members were posted to, the schools' gatemen were not aware they were coming. It was also learned that the corps members were alone in most of the schools overnight without policemen to provide security.
Many of the Corps members also lamented that they were at least expecting dinner to be served, mattresses and mosquito nets from INEC because they were told that they would be taken care of, but they got nothing.
A Corps member, Princess Ukaps, told The Nation that she and some of her colleagues were at the INEC office around 4 pm last Friday. She said they were there to check the names of their polling units and supervisors.
"After waiting endlessly, we moved to the primary school we were posted to and we got there few minutes to 9 pm. We were there hoping that INEC officials would come and address us. We also hoped they would give us food, mattresses and maybe mosquito nets because we were told that we would be taken care of.
"To our surprise, we waited endlessly and later went to look for food and drinks. I had to take my bath at the back of one of the classrooms in the school that night because I can never sleep without taking my bath. It was one woman in the school that gave me a bucket and water. I slept on a bench in one of the classrooms, but mosquitoes bite me seriously. Some slept on the floor in the classrooms. I learnt that at some other schools, the gatemen did not open the gates for the corps members and many had to sleep inside buses and on the floor on the roadsides. The experience was pathetic."
Another Corps member, who simply identified himself as Chinedu, who was attached to a local government on the Lagos Mainland, said the way many of them were treated last Friday was inhuman and uncalled for.
"INEC made us feel less of a human being. We were left to sleep in an open space and no one catered for us; no one communicated with us. When I and some of my friends got to the primary school we were posted to, we were expecting some of the INEC officials to come to the school for our final training. They told us at the previous training they had with us that they were would come to our polling units to give us final training on the election materials, card readers and all, but no one showed up. We all slept in an open space.