Home Coming: No guarantee that Atiku will not be arrested in the US – UK
Atiku Abubakar, presidential candidate of the Peoples Democratic Party (PDP), has finally been issued a visa to the United States, despite being arrestable.
A family source disclosed this on Saturday and confirmed that the former vice-president has left Nigeria for the UK, where he will spend some time before flying to the US.
It was gathered that former president Olusegun Obasanjo played a "critical" role in getting the American government to issue the visa to his former deputy with whom he was estranged for almost 15 years.
The trip marks another chapter in the controversy that has rocked the former vice-president for over a decade.
Atiku, who is widely travelled, has not been to the US in 13 years, intially fueling speculations that he might be avoiding possible arrest or prosecution.
His political opponents had used his absence from the US not just to taunt but to discredit him.
His row with the US authorities began after the FBI investigated a bribery scandal involving William Jefferson, former US congressman, in 2004.
Atiku was accused of demanding a bribe of $500,000 to facilitate the award of contracts to two American telecommunication firms in Nigeria.
The FBI had searched his residence in the posh neighbourhood of Potomac, Maryland, but no money was found.
The investigators had videotaped Jefferson, who was the congressman representing Louisiana, receiving $100,000 worth of $100 bills which he claimed was meant for Atiku, but the former vice-president has consistently denied the allegation.
Despite Atiku's claim to innocence, the controversy raged.
Two months before he declared interest in the 2019 presidential race, Atiku granted an interview to Dele Mommodu, celebrity journalist, where he clarified his absence from the US.
"It is the sole prerogative of America to determine who they want in their country or not," he said.
"I'm not running away from America. I applied but wasn't issued a visa."
He said the US did not categorically deny him visa.
"They've only said my application is going through administrative process," he said.
On Thursday, Lai Mohammed, minister of information, had warned the US to be cautious in granting visa to the main opponent of President Muhammadu Buhari in 2019.
Asked to comment on Atiku's visa status on Friday, Rusell Brooks, spokesman of the US consulate in Lagos, had said issuance of visa to Nigerians irrespective of their status is strictly a confidential matter.
He said the US government would not discuss such confidentiality in public.
Some All Progressives Congress (APC) members had alleged that Brian Ballard, publicist of US President Donald Trump, was working towards relaxing the visa ban on Atiku
Meanwhile, reports have it that Atiku Abubakar has returned to Nigeria after failing to secure assurances from the US Department of Justice that he will not be arrested if he sets his foot into the soil of the United State.
Waziri Adamawa secured a US visa and had travelled to the United Kingdom from where he will fly into the United state where he had not been able to step foot for more than 13 years.
"His mission in the United Kingdom is to get the British Government to help him secure the assurances of the United States Department of Justice that he will not be arrested upon setting foot in US soil. But the British government is reported to have informed Abubakar that the US Department of Justice has made it clear that it cannot guarantee he will not be arrested."
Osinbajo rallies APC supporters for polls in Kano, others
Vice President Yemi Osinbajo has urged All Progressives Congress (APC) members not to relax or take anything for granted ahead of the March 23 governorship election rerun in some states.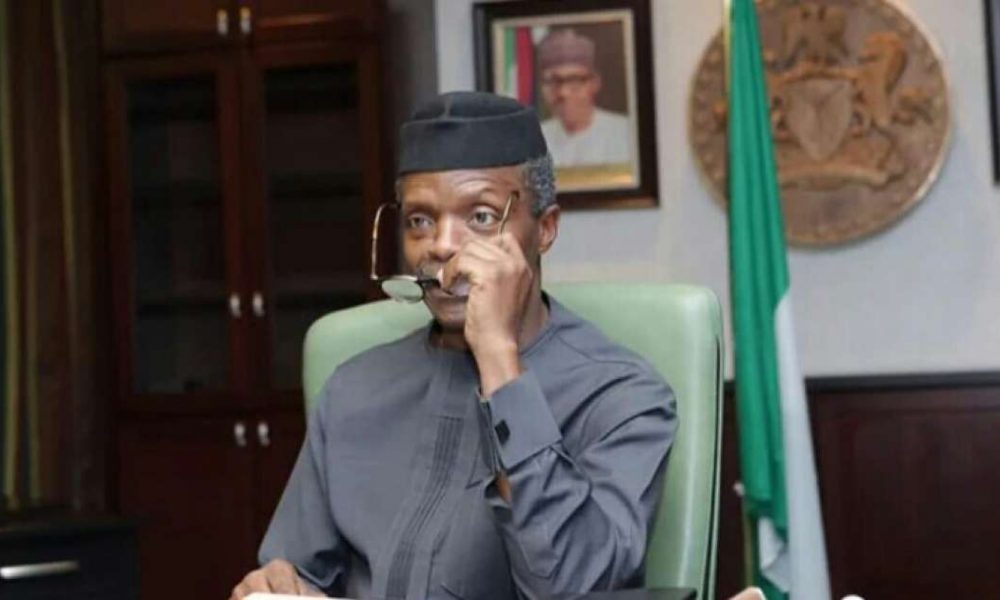 Osinbajo communicated this while addressing party faithful at the PMB/PYO Volunteers Appreciation Dinner at the State House Banquet Hall on Thursday in Abuja.
INEC has fixed March 23 for supplementary elections in Adamawa, Bauchi, Benue, Kano, Plateau and Sokoto states where governorship elections were declared inconclusive.
He thanked the volunteers for their commitment and trust, saying that with the re-election of President Muhammadu Buhari, Nigeria was on course for greatness.
"I believe that with your support our country will continue to move forward; everything we want for our country will be done, and by the grace of God, every one of  the President's projects will be done.
`Our economy will turn around and we will see prosperity in this great nation.
"Let me just say that we are still not done with elections.
"On March 23, we still have some outstanding states; as you know, there are rerun elections in about six states.
" And we still need to put efforts in those six states. We cannot afford to slack up and say the job is done; we still have some things to be done,'' he said.
Osinbajo expressed APC's condolences to the families of those who lost their lives during the process, and asked for a minute silence in their honour.
He said that the campaign was about the Nigerian people whom he said were very trusting and supportive of their leaders without asking for much.
The vice president said  that the Buhari-led government had achieved much in four years in spite of earning less—a feat  which was achieved because of Mr President's honesty and integrity.
Mr Ade Ipaye, Deputy Chief of Staff to the President, said that Nigerians had demonstrated their confidence in the ability of Buhari and Osinbajo to pilot the nation.
He said that Nigerians not only voted but made sure that their votes counted.
Ipaye commended the President and vice president over their energetic campaign that saw them going round the country.
The deputy chief of staff also thanked God for securing the President,  vice president and the campaign team throughout the campaign.
Retired Brig-Gen.  Buba Marwa, Director,  Women and Youths, APC Campaign Team,  expressed appreciation to Osinbajo for arranging a platform to thank the volunteers.
He thanked God for protecting the vice president in the helicopter crash as he and the crew all came out unscathed.
Marwa said that Osinbajo exhibited uncommon commitment and courage by proceeding with his schedule shortly after the crash.
"Something told me we will be victorious after the vice president survived the crash.
"Why else should the vice president survive if not that God has prepared him for another four years.
"He continued with his campaign immediately after the crash; he deserves applause.
"We thank God for the president who was able to visit all the states; he went to each and every state.
"This is the first time we are seeing a vice president mingling with the downtrodden in the markets and everywhere."
There were also goodwill messages from some other party functionaries.
The gathering was thrilled by a cultural troupe and comedians.