Home Coming: No guarantee that Atiku will not be arrested in the US – UK
Atiku Abubakar, presidential candidate of the Peoples Democratic Party (PDP), has finally been issued a visa to the United States, despite being arrestable.
A family source disclosed this on Saturday and confirmed that the former vice-president has left Nigeria for the UK, where he will spend some time before flying to the US.
It was gathered that former president Olusegun Obasanjo played a "critical" role in getting the American government to issue the visa to his former deputy with whom he was estranged for almost 15 years.
The trip marks another chapter in the controversy that has rocked the former vice-president for over a decade.
Atiku, who is widely travelled, has not been to the US in 13 years, intially fueling speculations that he might be avoiding possible arrest or prosecution.
His political opponents had used his absence from the US not just to taunt but to discredit him.
His row with the US authorities began after the FBI investigated a bribery scandal involving William Jefferson, former US congressman, in 2004.
Atiku was accused of demanding a bribe of $500,000 to facilitate the award of contracts to two American telecommunication firms in Nigeria.
The FBI had searched his residence in the posh neighbourhood of Potomac, Maryland, but no money was found.
The investigators had videotaped Jefferson, who was the congressman representing Louisiana, receiving $100,000 worth of $100 bills which he claimed was meant for Atiku, but the former vice-president has consistently denied the allegation.
Despite Atiku's claim to innocence, the controversy raged.
Two months before he declared interest in the 2019 presidential race, Atiku granted an interview to Dele Mommodu, celebrity journalist, where he clarified his absence from the US.
"It is the sole prerogative of America to determine who they want in their country or not," he said.
"I'm not running away from America. I applied but wasn't issued a visa."
He said the US did not categorically deny him visa.
"They've only said my application is going through administrative process," he said.
On Thursday, Lai Mohammed, minister of information, had warned the US to be cautious in granting visa to the main opponent of President Muhammadu Buhari in 2019.
Asked to comment on Atiku's visa status on Friday, Rusell Brooks, spokesman of the US consulate in Lagos, had said issuance of visa to Nigerians irrespective of their status is strictly a confidential matter.
He said the US government would not discuss such confidentiality in public.
Some All Progressives Congress (APC) members had alleged that Brian Ballard, publicist of US President Donald Trump, was working towards relaxing the visa ban on Atiku
Meanwhile, reports have it that Atiku Abubakar has returned to Nigeria after failing to secure assurances from the US Department of Justice that he will not be arrested if he sets his foot into the soil of the United State.
Waziri Adamawa secured a US visa and had travelled to the United Kingdom from where he will fly into the United state where he had not been able to step foot for more than 13 years.
"His mission in the United Kingdom is to get the British Government to help him secure the assurances of the United States Department of Justice that he will not be arrested upon setting foot in US soil. But the British government is reported to have informed Abubakar that the US Department of Justice has made it clear that it cannot guarantee he will not be arrested."
#Nigeria Decides: Corps members lament shoddy treatment
Members of the National Youths Service Corps (NYSC) have called on the Independent National Electoral Commission (INEC) to put adequate logistics in place, ahead of Saturday's elections.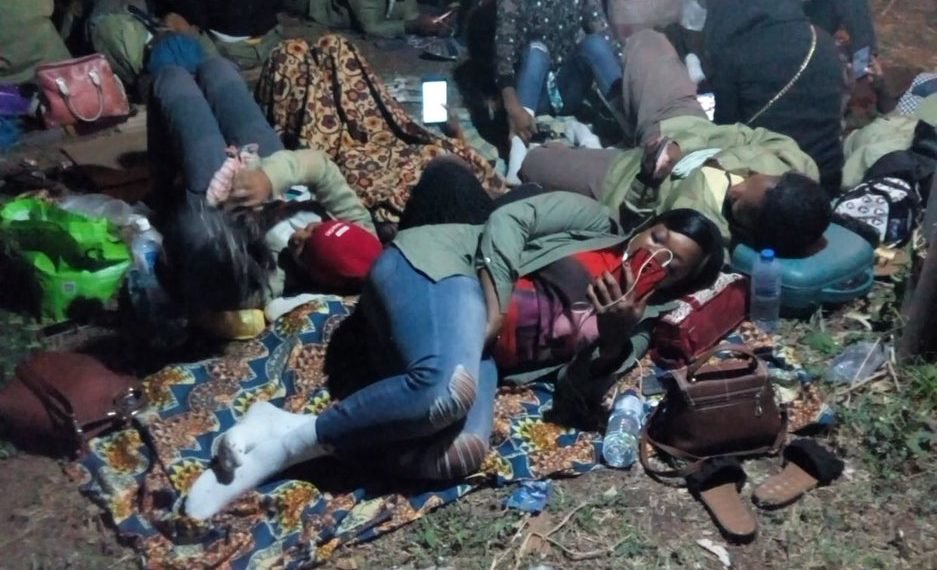 The Corps members lamented lack of security, inadequate transportation and the poor communication channel between them and the INEC officials.
They noted that they slept in the open fields, on bare floor and benches with election materials without security presence before the commission announced the elections' rescheduling.
It was gathered that in some of the schools, the NYSC members were posted to, the schools' gatemen were not aware they were coming. It was also learned that the corps members were alone in most of the schools overnight without policemen to provide security.
Many of the Corps members also lamented that they were at least expecting dinner to be served, mattresses and mosquito nets from INEC because they were told that they would be taken care of, but they got nothing.
A Corps member, Princess Ukaps, told The Nation that she and some of her colleagues were at the INEC office around 4 pm last Friday. She said they were there to check the names of their polling units and supervisors.
"After waiting endlessly, we moved to the primary school we were posted to and we got there few minutes to 9 pm. We were there hoping that INEC officials would come and address us. We also hoped they would give us food, mattresses and maybe mosquito nets because we were told that we would be taken care of.
"To our surprise, we waited endlessly and later went to look for food and drinks. I had to take my bath at the back of one of the classrooms in the school that night because I can never sleep without taking my bath. It was one woman in the school that gave me a bucket and water. I slept on a bench in one of the classrooms, but mosquitoes bite me seriously. Some slept on the floor in the classrooms. I learnt that at some other schools, the gatemen did not open the gates for the corps members and many had to sleep inside buses and on the floor on the roadsides. The experience was pathetic."
Another Corps member, who simply identified himself as Chinedu, who was attached to a local government on the Lagos Mainland, said the way many of them were treated last Friday was inhuman and uncalled for.
"INEC made us feel less of a human being. We were left to sleep in an open space and no one catered for us; no one communicated with us. When I and some of my friends got to the primary school we were posted to, we were expecting some of the INEC officials to come to the school for our final training. They told us at the previous training they had with us that they were would come to our polling units to give us final training on the election materials, card readers and all, but no one showed up. We all slept in an open space.