Catholic cleric floors Buhari and Atiku
The Catholic Archbishop of Abuja Archdiocese, John Cardinal Onaiyekan, at the weekend lashed out at President Buhari and PDP Presidential candidate, Atiku Abubakar and concluded that the main challenge before Nigerians is making a choice between two well-known but undesirable candidates in the forthcoming presidential election.
In his speech presented at the weekend in Abuja, Onaiyekan said the new political parties that would have joined forces to produce a credible alternative presidential candidate failed to do so due to selfishness and ego.
He said that at the moment, it would not be in the interest of the church to support one political party against the other; but to identify and stand behind those who can offer good governance for the people.
According to Cardinal Onaiyekan, the church and the clergies must come out clearly to support efforts to sanitise the political climate.
He said, "My dear brothers, our country is deeply in a great dilemma as we move towards the 2019 general elections. It would appear that we are faced with a horrible tragedy of a choice between two well-known undesirable candidates.
''This is not only because both of them are Muslims but because we have seen both and we have no reason to be enthusiastic that they will do wonders. But this does not mean that we will completely give up interest if we do, others are busy working. All it takes for evil to thrive is for the righteous to stay quiet and do what they call minding their own business, which means doing nothing.
"It is a pity that whereas there are over 90 political parties, there seems to be no viable alternative to the two mega parties that have failed us. Where is the alternative? It is a pity that they cannot come together to form a viable alternative.
''In my opinion, this is mainly because of their selfishness. Everybody wants to be president and wield power. No one wants to step down and join hands with others of like minds. We need to pray that there will be a way forward. We need to seriously tackle the devil of selfishness.''
He charged Catholic Church faithful who belonged to the APC and PDP to realise the need for a conversion of hearts and a change from selfishness to a sense of solidarity.
The Cardinal, who expressed fears of a looming crisis facing the country in view of forthcoming general elections, advised that one of the ways to avert it is for religious leaders to act responsibly by addressing issues and speaking clearly to political elites no matter which sides they belong.
He added, "We need to change from deceit and lies to truth and honesty. We should encourage our Catholics that it is possible for politicians to be honest.''
Onaiyekan stated that part of the inter-religious peace and cooperation that the Catholic Church is preaching is for its members to join other men and women of goodwill in pursuing justice, love and peace.
He further enjoined Christians to pray fervently for God to intervene and to ensure peaceful elections in view of various crises threatening to tear the country apart.
#Nigeria Decides: Corps members lament shoddy treatment
Members of the National Youths Service Corps (NYSC) have called on the Independent National Electoral Commission (INEC) to put adequate logistics in place, ahead of Saturday's elections.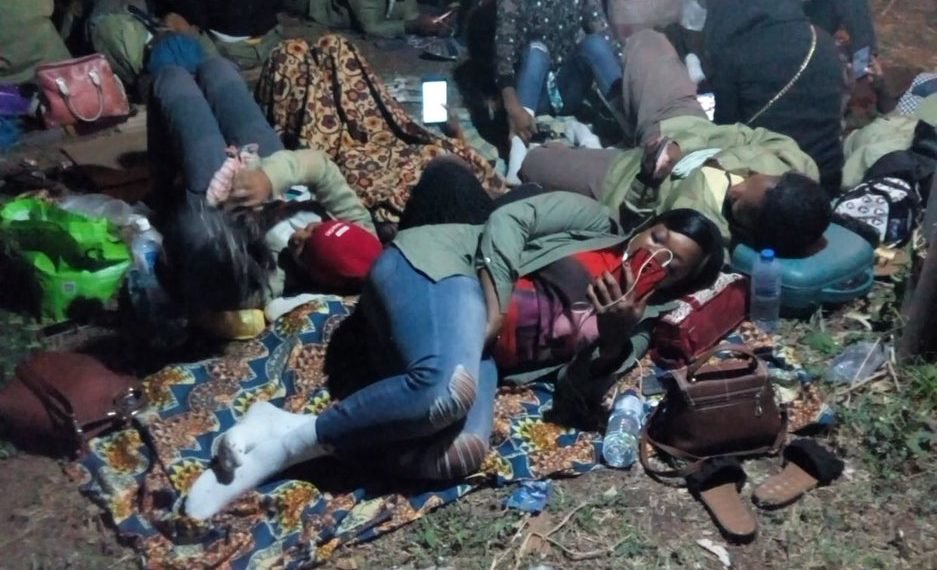 The Corps members lamented lack of security, inadequate transportation and the poor communication channel between them and the INEC officials.
They noted that they slept in the open fields, on bare floor and benches with election materials without security presence before the commission announced the elections' rescheduling.
It was gathered that in some of the schools, the NYSC members were posted to, the schools' gatemen were not aware they were coming. It was also learned that the corps members were alone in most of the schools overnight without policemen to provide security.
Many of the Corps members also lamented that they were at least expecting dinner to be served, mattresses and mosquito nets from INEC because they were told that they would be taken care of, but they got nothing.
A Corps member, Princess Ukaps, told The Nation that she and some of her colleagues were at the INEC office around 4 pm last Friday. She said they were there to check the names of their polling units and supervisors.
"After waiting endlessly, we moved to the primary school we were posted to and we got there few minutes to 9 pm. We were there hoping that INEC officials would come and address us. We also hoped they would give us food, mattresses and maybe mosquito nets because we were told that we would be taken care of.
"To our surprise, we waited endlessly and later went to look for food and drinks. I had to take my bath at the back of one of the classrooms in the school that night because I can never sleep without taking my bath. It was one woman in the school that gave me a bucket and water. I slept on a bench in one of the classrooms, but mosquitoes bite me seriously. Some slept on the floor in the classrooms. I learnt that at some other schools, the gatemen did not open the gates for the corps members and many had to sleep inside buses and on the floor on the roadsides. The experience was pathetic."
Another Corps member, who simply identified himself as Chinedu, who was attached to a local government on the Lagos Mainland, said the way many of them were treated last Friday was inhuman and uncalled for.
"INEC made us feel less of a human being. We were left to sleep in an open space and no one catered for us; no one communicated with us. When I and some of my friends got to the primary school we were posted to, we were expecting some of the INEC officials to come to the school for our final training. They told us at the previous training they had with us that they were would come to our polling units to give us final training on the election materials, card readers and all, but no one showed up. We all slept in an open space.