I never said Buhari was cloned – Nnamdi Kanu
Leader of the Indigenous People of Biafra, IPOB, Mazi Nnamdi Kanu, has told the Federal Government that he never said President Muhammadu Buhari was cloned.
He said his message to the world has always been that President Buhari was 'dead' and was replaced by another individual, Jubril Aminu Al-Sudani, as a double.
Kanu made the clarification during the weekend in a two-and-half hour worldwide radio broadcast from Israel.
Recall that Minister of Information, Lai Mohammed, sparked public interest when he said it was 'idiotic' to contemplate that the President was cloned.
President Buhari himself yesterday told the Nigerian community in Poland that he was the real person and not a clone.
But in his reaction, Kanu said the introduction of 'cloning' into the narrative was a diversionary attempt to confuse the people.
His words: "We are going to dismantle the lies of Lai Mohammed and his brother (Senator Ajayi Borroffice), who claims he holds a doctorate degree in genetics and said nobody can clone a 75-yr-old.
"Lai Mohammed re-echoed that sentiment. If you're not intelligent enough, you will think that Nnamdi Kanu said Buhari was cloned into Jubril (a Sudanese).
"That was not what I said. I said Jubril is an impostor. They (the cabal) brought him in to act and behave like the 'dead' Buhari. I never said he was cloned.
"The introduction of cloning into the narrative was a ploy to confuse the people.
"I am very grateful that the Sudanese government are doing something about this by investigating the matter.
"It must be mentioned that the mastermind of the fraud of Jibril is Abba Kyari. Has anyone seen him recently?"
The IPOB leader accused the presidency of shielding the President from getting into close proximity with the troops during his recent visit to Maiduguri so as not to blow his cover as a 'fake'.
Kanu further took a swipe at Vice-President, Yemi Osinbajo, over a purported reluctance, on his part, to tell Nigerians the 'truth' about his principal.
"Osinbajo is a coward that is why he is not President. Dora Akunyili sacrificed her life that Jonathan may become president. Without what she did, nobody had the mettle to speak the truth.
"Akunyili came and told everybody the truth that Yar'Adua was dead. What they (the cabal) are doing now was perfected then," he added.
#Nigeria Decides: Corps members lament shoddy treatment
Members of the National Youths Service Corps (NYSC) have called on the Independent National Electoral Commission (INEC) to put adequate logistics in place, ahead of Saturday's elections.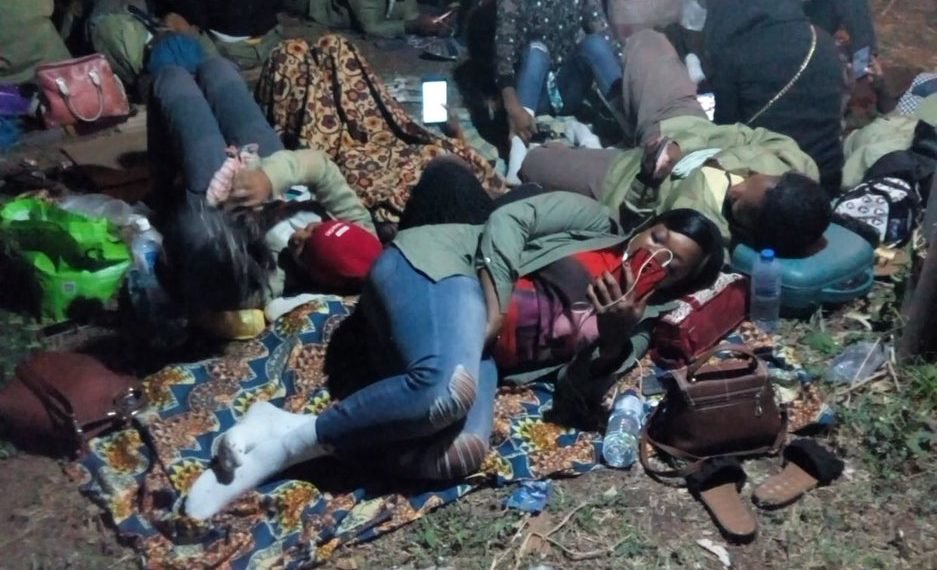 The Corps members lamented lack of security, inadequate transportation and the poor communication channel between them and the INEC officials.
They noted that they slept in the open fields, on bare floor and benches with election materials without security presence before the commission announced the elections' rescheduling.
It was gathered that in some of the schools, the NYSC members were posted to, the schools' gatemen were not aware they were coming. It was also learned that the corps members were alone in most of the schools overnight without policemen to provide security.
Many of the Corps members also lamented that they were at least expecting dinner to be served, mattresses and mosquito nets from INEC because they were told that they would be taken care of, but they got nothing.
A Corps member, Princess Ukaps, told The Nation that she and some of her colleagues were at the INEC office around 4 pm last Friday. She said they were there to check the names of their polling units and supervisors.
"After waiting endlessly, we moved to the primary school we were posted to and we got there few minutes to 9 pm. We were there hoping that INEC officials would come and address us. We also hoped they would give us food, mattresses and maybe mosquito nets because we were told that we would be taken care of.
"To our surprise, we waited endlessly and later went to look for food and drinks. I had to take my bath at the back of one of the classrooms in the school that night because I can never sleep without taking my bath. It was one woman in the school that gave me a bucket and water. I slept on a bench in one of the classrooms, but mosquitoes bite me seriously. Some slept on the floor in the classrooms. I learnt that at some other schools, the gatemen did not open the gates for the corps members and many had to sleep inside buses and on the floor on the roadsides. The experience was pathetic."
Another Corps member, who simply identified himself as Chinedu, who was attached to a local government on the Lagos Mainland, said the way many of them were treated last Friday was inhuman and uncalled for.
"INEC made us feel less of a human being. We were left to sleep in an open space and no one catered for us; no one communicated with us. When I and some of my friends got to the primary school we were posted to, we were expecting some of the INEC officials to come to the school for our final training. They told us at the previous training they had with us that they were would come to our polling units to give us final training on the election materials, card readers and all, but no one showed up. We all slept in an open space.