PDP governors asked to back Atiku
The Peoples Democratic Party (PDP) has intensified efforts to rally its governors behind its presidential candidate, Alhaji Atiku Abubakar. There have been media reports that Atiku's bid to become Nigeria's president might be much tougher than envisaged as some governors elected on the platform of the party have become hurdles standing imposingly between him and his aspiration.
According to the reports, the former vice-president's travail is said to have started the moment he settled for the former governor of Anambra State, Mr Peter Obi, as his running mate.
Atiku is believed to have struck a deal with some prominent South-east politicians, amongst them, the Deputy Senate President, Senator Ike Ekweremadu, and the Ebonyi State Governor, Chief Dave Umahi, as likely running mate if they support him to emerge as the party's candidate.
Atiku is, however, being accused of settling for Obi without consulting with South-east and South-south leaders of the party, thus fuelling intense mistrust amongst the majority of them, who then chose to stay away from his presidential affair, because 'he cannot be trusted.'
The governors are believed to be facing intense lobby from the president's men and their colleagues in the APC, a development believed to have given rise to their recent meeting with Buhari at the Villa.
But speaking yesterday, the National Publicity Secretary of the party, Mr Kola Ologbondiyan, insisted that there is no in-house fighting in the main opposition party, as the party is committed and united to assume leadership of the country in 2019.
Ologbondiyan said that the party has been carrying along all its stakeholders and that the governors have been part of all the major decisions on the presidential campaign.
Admitting that there were initial misgivings in some quarters, he, however, said that everyone had been brought up to speed and all misunderstandings straightened out.
#Nigeria Decides: Corps members lament shoddy treatment
Members of the National Youths Service Corps (NYSC) have called on the Independent National Electoral Commission (INEC) to put adequate logistics in place, ahead of Saturday's elections.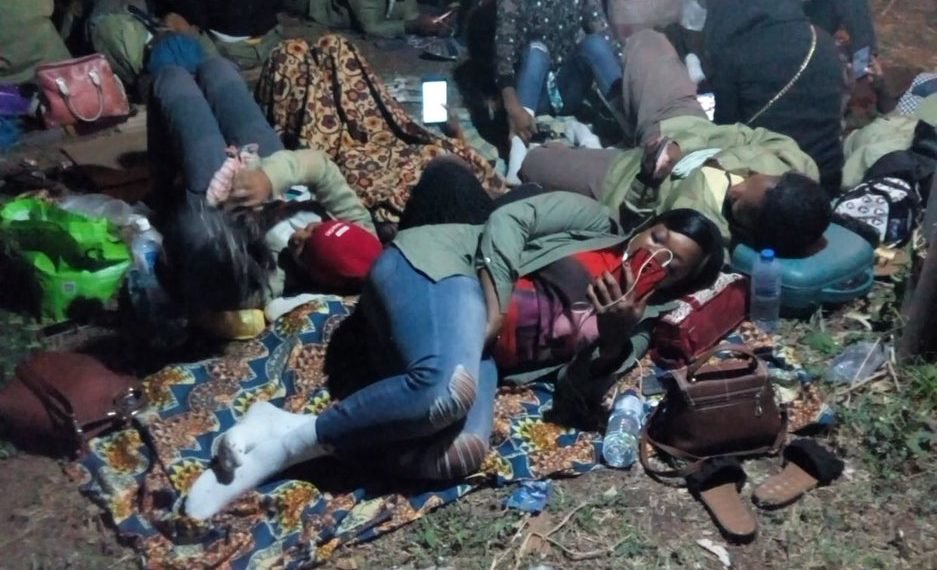 The Corps members lamented lack of security, inadequate transportation and the poor communication channel between them and the INEC officials.
They noted that they slept in the open fields, on bare floor and benches with election materials without security presence before the commission announced the elections' rescheduling.
It was gathered that in some of the schools, the NYSC members were posted to, the schools' gatemen were not aware they were coming. It was also learned that the corps members were alone in most of the schools overnight without policemen to provide security.
Many of the Corps members also lamented that they were at least expecting dinner to be served, mattresses and mosquito nets from INEC because they were told that they would be taken care of, but they got nothing.
A Corps member, Princess Ukaps, told The Nation that she and some of her colleagues were at the INEC office around 4 pm last Friday. She said they were there to check the names of their polling units and supervisors.
"After waiting endlessly, we moved to the primary school we were posted to and we got there few minutes to 9 pm. We were there hoping that INEC officials would come and address us. We also hoped they would give us food, mattresses and maybe mosquito nets because we were told that we would be taken care of.
"To our surprise, we waited endlessly and later went to look for food and drinks. I had to take my bath at the back of one of the classrooms in the school that night because I can never sleep without taking my bath. It was one woman in the school that gave me a bucket and water. I slept on a bench in one of the classrooms, but mosquitoes bite me seriously. Some slept on the floor in the classrooms. I learnt that at some other schools, the gatemen did not open the gates for the corps members and many had to sleep inside buses and on the floor on the roadsides. The experience was pathetic."
Another Corps member, who simply identified himself as Chinedu, who was attached to a local government on the Lagos Mainland, said the way many of them were treated last Friday was inhuman and uncalled for.
"INEC made us feel less of a human being. We were left to sleep in an open space and no one catered for us; no one communicated with us. When I and some of my friends got to the primary school we were posted to, we were expecting some of the INEC officials to come to the school for our final training. They told us at the previous training they had with us that they were would come to our polling units to give us final training on the election materials, card readers and all, but no one showed up. We all slept in an open space.