Staff of NASS disrupt legislative actives over unpaid salaries
Protesting staff of the National Assembly under the Parliamentary Staff Association of Nigeria (PASAN) on Tuesday barricaded both legislative chambers over non-payment of their Consolidated Salary Structure (CONLESS).
The aggrieved staff were seen carrying placards with various graffiti such as "No pay, no sitting" "No pay, no passing of bills", demanding for the immediate release of their salaries.
They have reportedly disrupted the legislative business scheduled today. The Chairman of Parliamentary Staff Association of Nigeria (PASAN), Bature Musa told journalists that the intention of the protesting National Assembly workers is not to have a faceoff with the legislators.
He said lawmakers will not be prevented from accessing the red and the green chamber when they arrive. He explaned that: "The word picketing does not prevent anybody from working, it is a message passed to the leadership of the National Assembly and don't forget, it is for a duration of between 9am and 2pm then after that everyone will return to work".
He said the two chambers have not been sealed, we have not asked anybody not to go to their offices and that "What we have at the back of our minds when we set out is that when they come around they will definitely find out what is happening, because we have written to them almost eight months ago, and nothing seems to be happening".
"You will agree with me that they are almost on their way out and this is the best time for us to cry out loud because the whole world will know why we are embarking on this peaceful demonstration."
He said the workers are ready for negotiations with the National Assembly, noting that "National Assembly is a custodian of law and we are not in this parliament to kick against the law. We are law abiding citizens, once it is 2 O'clock we will return to our respective offices".
Currently, both chambers are under lock and key while police officers attached to the National Assembly only watched helplessly. The protesting workers kept chanting anti-Clerk of the National Assembly (CNA) songs.
Their placards have words like 'Executive, fund National Assembly now, Omolori Must Go, CONLESS Has Been Approved Since 2010, Promotion is our right, Say No to Consultancy, No Welfare Insentives for staff since 18 years now, we need alert, release our promotion letters now, contract inflation is a crime".
#Nigeria Decides: Corps members lament shoddy treatment
Members of the National Youths Service Corps (NYSC) have called on the Independent National Electoral Commission (INEC) to put adequate logistics in place, ahead of Saturday's elections.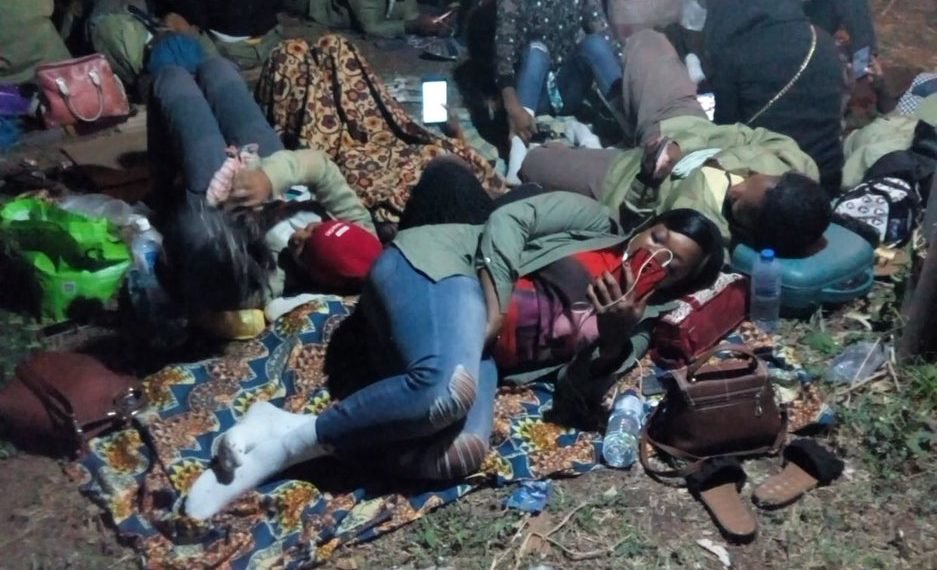 The Corps members lamented lack of security, inadequate transportation and the poor communication channel between them and the INEC officials.
They noted that they slept in the open fields, on bare floor and benches with election materials without security presence before the commission announced the elections' rescheduling.
It was gathered that in some of the schools, the NYSC members were posted to, the schools' gatemen were not aware they were coming. It was also learned that the corps members were alone in most of the schools overnight without policemen to provide security.
Many of the Corps members also lamented that they were at least expecting dinner to be served, mattresses and mosquito nets from INEC because they were told that they would be taken care of, but they got nothing.
A Corps member, Princess Ukaps, told The Nation that she and some of her colleagues were at the INEC office around 4 pm last Friday. She said they were there to check the names of their polling units and supervisors.
"After waiting endlessly, we moved to the primary school we were posted to and we got there few minutes to 9 pm. We were there hoping that INEC officials would come and address us. We also hoped they would give us food, mattresses and maybe mosquito nets because we were told that we would be taken care of.
"To our surprise, we waited endlessly and later went to look for food and drinks. I had to take my bath at the back of one of the classrooms in the school that night because I can never sleep without taking my bath. It was one woman in the school that gave me a bucket and water. I slept on a bench in one of the classrooms, but mosquitoes bite me seriously. Some slept on the floor in the classrooms. I learnt that at some other schools, the gatemen did not open the gates for the corps members and many had to sleep inside buses and on the floor on the roadsides. The experience was pathetic."
Another Corps member, who simply identified himself as Chinedu, who was attached to a local government on the Lagos Mainland, said the way many of them were treated last Friday was inhuman and uncalled for.
"INEC made us feel less of a human being. We were left to sleep in an open space and no one catered for us; no one communicated with us. When I and some of my friends got to the primary school we were posted to, we were expecting some of the INEC officials to come to the school for our final training. They told us at the previous training they had with us that they were would come to our polling units to give us final training on the election materials, card readers and all, but no one showed up. We all slept in an open space.