Atiku has given up on the Buhari administration
The Peoples Democratic Party (PDP) Presidential candidate, Atiku Abubakar, has declared that President Muhammadu Buhari administration is dead because of its failure to deliver on its campaign promises to the people.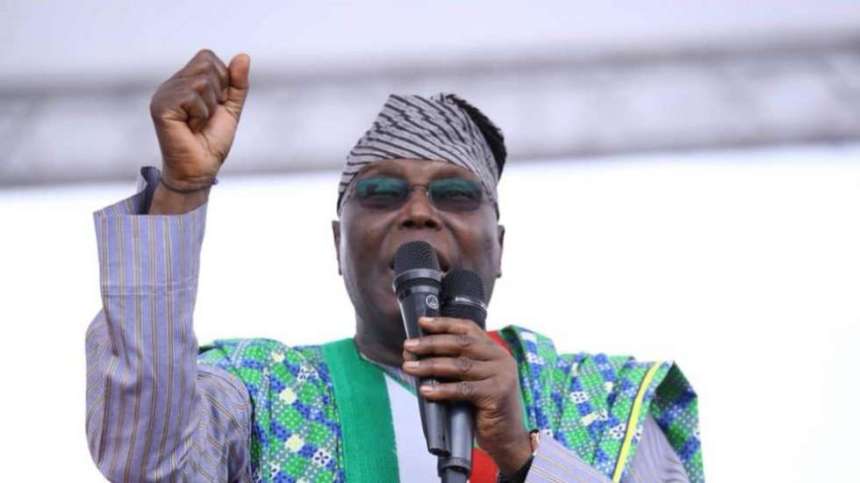 The former Vice President noted that since the present government assumed office over four years ago, the Buhari administration has taken steps to promote widespread decadence in the national economy, a development he lamented had produced unprecedented expansion in the level of poverty, unemployment and misery in the land.
Atiku criticised the All Progressives Congress (APC) administration for non-payment of salaries and allowances of workers.
He said: "The unemployment rate which is very prominent in Kogi State and the whole country is a disaster; you know our number one programme of the next PDP
government is the creation of the job. I want to commit to you before you that we will create as many jobs as possible to reduce the
unemployment.
"The inland Ports which this government has abandoned, we started it; when you vote for PDP, we will come back and complete it for you. Kogi State is endowed with so many natural resources, look we want to convert those natural resources into tangible resources and the resources that can contribute to the improvement of your lives and that can bring development".
He further stated: "We will make sure all the infrastructural development projects that had been abandoned are completed.
"I have always advocated for the restructuring of this country. If there is any state that is going to be a beacon of progress, a beacon of hope after restructuring, is Kogi State because Kogi State has all that it takes to be one of the most promising states in this country.
"Therefore, do not be deceived by APC, you have seen them, you have voted for them, what have they done in this four years? What have they done here in Kogi State? They can not even pay salaries and pensions. Schools are not working, hospitals are not working, this is a dead government and we have the opportunity to correct it now. We made the mistake, I made the mistake, today, we have retraced our steps and we are determined to correct the mistake that has been made. How many of you will vote for PDP?"
He condemned what he called government tendencies to clampdown on opposition politicians stating specifically that
He assured Nigerians of his commitment to the revival of the power sector, stating that "Ajaokuta is the legacy of the PDP. The power stations, Geregu 1 and 2 are the legacies of PDP. I am here to pledge to you that if you vote
for PDP and you return me as President, all those projects that have been abandoned by this government, I will complete them for you".
There is no reason to dump PDP – Jimi Agbaje
The Peoples Democratic Party, PDP, governorship candidate in Lagos state, Jimi Agbaje, has debunked reports that he has left the party.
According to the three-time governorhip candidate of the party, no one can force him to leave PDP.
His position was made known in a statement by Felix Oboagwina, his Director of Media and Publicity.
"I have never discussed with anyone any plan to dump PDP, neither has such a prospect crossed my mind…"There is no reason for it. It is uncalled for," he said.
According to Agbaje, rumour mongers who want to tarnish his reputation, are responsible for the claims. He also made it clear that he wouldn't leave the party, despite his disagreement with some party leaders.
"For a party that has twice accorded me the honour of running on its platform, I should be regarded as uncharitable to say I am abandoning PDP now," he added.
"Suffice to say that Chief Layi Ogunbambi's claim of being denied funds as Director-General of Atiku Abubakar Presidential Campaign Council in Lagos State amounted to attempting to build something on nothing. For starters, the position he lays claim gives him no locus standi as no such formal position existed in the entire campaign structure of PDP in Lagos or any of the other 35 states.
On campaign funds disbursement, and allegations of pilfering funds, Agbaje said:
"I, as the gubernatorial candidate of the party in Lagos, was Chairman of the PDP Presidential Campaign in Lagos. Mr. Leke Osikoya was the State Campaign Director. The national body recognised and related with us accordingly. The title of Director General was reserved for the national campaign council. If there was an Atiku/Obi Presidential Campaign it would have, at best, been a Support Group.
"Dr. Ogunbanmbi also went to the extent of stating his contributions financially and policy wise to my campaign. This is news to me. May be he should tell the world his financial contributions to my campaigns. There is no time I have ever sat with Dr. Ogunbanmbi to discuss policy issues."
"I was not given one kobo by the party or the PDP Presidential Candidate for the gubernatorial elections. We ran our campaign from beginning to end on a shoe-string budget. You cannot steal or divert what is not given."