Eurasia Group: Buhari to win by 60%
Going by the February 7 report of New York-based global research and political risk solutions firm Eurasia Group, President Muhammadu Buhari will win Saturday's election by 60 percent.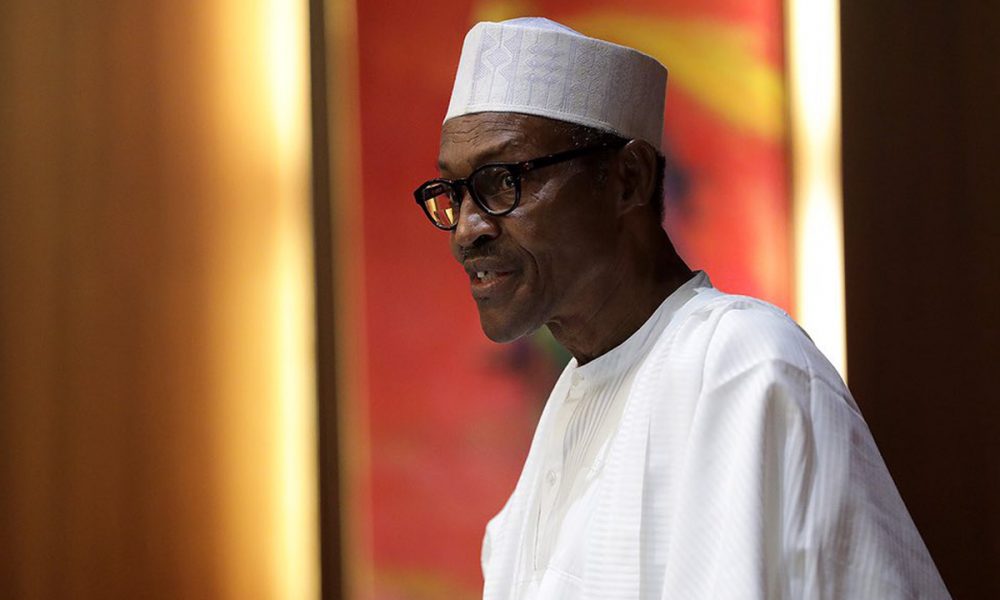 The group, which undertakes investment partnerships, consultancy, and risk advisory responsibilities in about 100 countries, said the odds against Buhari's main challenger, Atiku Abubakar of the Peoples Democratic Party (PDP), have positioned the incumbent to retain his seat.
It identified the odds as the divided support being enjoyed by the former vice president from key elements in the rival party.
Such elements, according to the Eurasia Group, would rather exert their energies and resources on the battle to retain their seats in their various constituencies.
The group listed such actors as the governors in the PDP-controlled states and the Director-General of the Atiku Presidential Campaign Organisation, Senator Bukola Saraki, who is battling to retain his seat in the upper chamber as the representative of the Kwara Central Senatorial Zone.
The report said: "As we have previously noted, key actors in Atiku's camp – including his campaign's Director -General Bukola Saraki, key powerbroker Governor Nyesom Wike of the oil-rich Rivers State, and Southeast governors from his PDP – had been disengaged from his election campaign.
"Wike was annoyed by Atiku's failure to consult him on key decisions, Saraki remains distracted by a tough Senate reelection battle in Kwara State, and the Southeast governors are hampered by many conflicting motivations, including their own lack of political clout (which makes them reluctant to overtly challenge the federal government) and their wariness of Atiku's running mate Peter Obi, a former governor of the southeastern Anambra State who they view as a political outsider.
"The lack of enthusiasm on the part of some PDP governors is a problem for Atiku because these officials control significant discretionary funds at the state level (known as "security votes") that are easier to access without triggering graft concerns.
"They can also leverage strong relationships with security, judicial, and election officers in their respective states. Governors are thus critical to mobilizing voter turnout on Election Day.
"With 23 in office compared to the PDP's 12, the APC already has an edge; unmotivated PDP governors will only reinforce that advantage by making it harder for the opposition to mobilize and sustain voter support on Election Day."
Two APC governors, Aminu Tambuwal (Sokoto) and Benue State counterpart Samuel Ortom, defected to the PDP last year. But the governors are battling to win their states for their new parties.
On the edge the incumbent has over Atiku, the Eurasia Group said President Buhari's All Progressives Congress (APC) has a widespread political structure to boost voter mobilization and solidify Buhari's advantage.
The group noted that the heightened anxiety triggered by the suspension of Chief Justice of Nigeria (CJN) Justice Walter Onnoghen by President Buhari was not enough to turn the table against the incumbent.
CJN Onnoghen was suspended by the President on January 25 following allegations on false declaration of assets against him by the Code of Conduct Bureau (CCB). The CCB has since charged the CJN before the Code of Conduct Tribunal (CCT).
Justice Onnoghen is expected to submit his response to the charges against him to the National Judicial Council (NJC) today.
The group ruled out the possibility of protests against Buhari's victory.
It said: "These trends support our view that widespread violence is unlikely following the 16 February vote. We have repeatedly argued that Atiku's voters do not match Buhari's in passion and are unlikely to risk their lives on the streets for him.
"Though Buhari's decision to suspend the Chief Justice triggered widespread criticism and stoked passions (along with fears about a more Buhari second term), many voters blame the judiciary for not moving quickly to force CJN Onnoghen's resignation after he admitted he had violated rules regarding declaration of assets.
Thus should Atiku lose, as we expect, there will be few motivated stakeholders to encourage or instigate serious violence. Instead, we expect PDP governors to quickly turn their attention to fighting to retain their own jobs in the state elections on March 2."
Prominent Nigerian female curator, dies aged 56
Bisi Silva, an adventurous curator who, with her own money, founded a nonprofit art gallery and education center in Lagos, Nigeria's largest city, that has nurtured the growth and recognition of contemporary African artists, died on Feb. 12 in a hospital there. She was 56.
Her sister Joke Silva, an actress, said the cause was breast cancer.
Ms. Silva started the Center for Contemporary Art, Lagos in 2007 and made it a hub for bold and experimental sculpture, painting, photography and video and performance art that could ignite local and global interest.
She also curated exhibitions of African art around the world. One, in Helsinki, Finland, in 2011, featured the Nigerian photographer J. D. Okhai Ojeikere's images of African women's exotic hairstyles. (She turned that show into a book.) Others showed the work of the Ghanaian-born sculptor El Anatsui in Amsterdam and Johannesburg.
"I wouldn't call her an African curator, but an international curator," Hannah O'Leary, the head of modern and contemporary African art at Sotheby's in London, said in a telephone interview. "She promoted African artists to the world and brought the international art world to Africa, and did it tirelessly. She never did the obvious: Her knowledge and vision were unrivaled."
Ms. Silva felt that her mission was to change the way contemporary African art was being viewed from a Western perspective and to develop African artists in ways that their schools were not.
"The gaps in the art education system are jarring," she told Frieze, an art and culture magazine, in 2017. While some West African nations like Nigeria had arts education programs, she called them "a colonial relic out of tune with present-day contextual, stylistic and intellectual realities."
To fill the gaps, she created the Asiko Art School — actually a series of pop-up schools holding annual, monthlong educational gatherings in various African countries including Senegal, Ghana and Ethiopia, where artists, writers, historians, curators and teachers immersed themselves in seminars, workshops and exhibitions. The events gave Ms. Silva opportunities to evaluate artists' work.
"Everyone had 15 minutes to present," Antawan Byrd, who learned art curating under Ms. Silva at C.C.A. and is now assistant curator of photography at the Art Institute of Chicago, said by phone. "She'd be very critical. You had to defend your work and your research."
Ms. Silva believed that her exhibitions, lectures, workshops, mentoring and educational programs made a positive impact in a short time.
"Twenty, 25 years ago, curators of contemporary art might have been completely and totally scared of going to 'the Dark Continent,' " she told The New York Times in 2016. "Now it's like, 'Oh, Bisi, I want to go to Lagos, I want to go to Ghana.' "
Olabisi Obafunke Silva was born in Lagos on May 29, 1962. Her father, Chief Emmanuel Afolabi Silva, was a lawyer, and her mother, Charlotte Olamide Williams, was a civil servant with the Nigerian Railway.
After graduating from the University of Dijon in France, where she studied languages, she earned a master's in curating contemporary art from the Royal College of Art in London. Her thesis examined the marginalization of black artists at exhibitions in England.
Ms. Silva returned to Lagos in 2002, inspired by her research but disappointed that she could not find an outlet for her vision of curating contemporary African art.
"Most of the galleries were commercial, and as far as I knew, there were no nonprofits," she told Frieze. "Government institutions were moribund, and there was no place for young artists interested in experimenting with media other than painting and sculpture."
She decided to start C.C.A, becoming its artistic director.
"There is no government funding for such initiatives," she said in a lecture at the Block Museum of Art at Northwestern University in 2017. "If you want to do something, you have to do it yourself."
Her cutting-edge shows at C.C.A. included "The Progress of Love," which explored love through performance work by Jelili Atiku of Nigeria and Wura-Natasha Ogunji of the United States, and installations by Temitayo Ogunbiyi of Nigeria and the United States and Valerie Oka of Ivory Coast; "Identity: An Imagined State," which looked at African identity in videos by artists from Africa and South America; and "Like a Virgin … ," an exploration of women's bodies, sexuality and identities by Lucy Azubuike, a Nigerian sculptor, and Zanele Muholi, a South African photographer.
"Virgin" was "a divisive show," Ms. Silva said in an interview in 2017 with Pulse.com, a Ghanaian news website. "There were a lot of objections to Muholi's photographs of her menstrual blood."
In addition to Joke Silva, she is survived by two other sisters, Olajumoke Dawodu and Ojuolape Silva; and two brothers, Olabiyi Silva and Bolaji Oladunjoye. She considered her 13 nieces and nephews her children.
Ms. Silva had a particular expertise in organizing photography exhibitions and in creating a library of visual arts at C.C.A.
Oluremi C. Onabanjo, a scholar of African arts, wrote in Aperture magazine after Ms. Silva's death that her influence on photography "will be writ large, emphasized in bold."
Citing the vast range of work that radiated from C.C.A., Ms. Onabanjo wrote that "her remarkable vision and indefatigable spirit instigated tectonic shifts in editorial, curatorial and institutional frameworks in Nigeria and across the African continent."
NYT