Atiku says Buhari is instigating violence
The presidential candidate of the Peoples Democratic Party (PDP), Alhaji Atiku Abubakar, has accused President Muhammadu Buhari of the All Progressives Congress (APC) of instigating violence ahead of Saturday's presidential and National Assembly elections.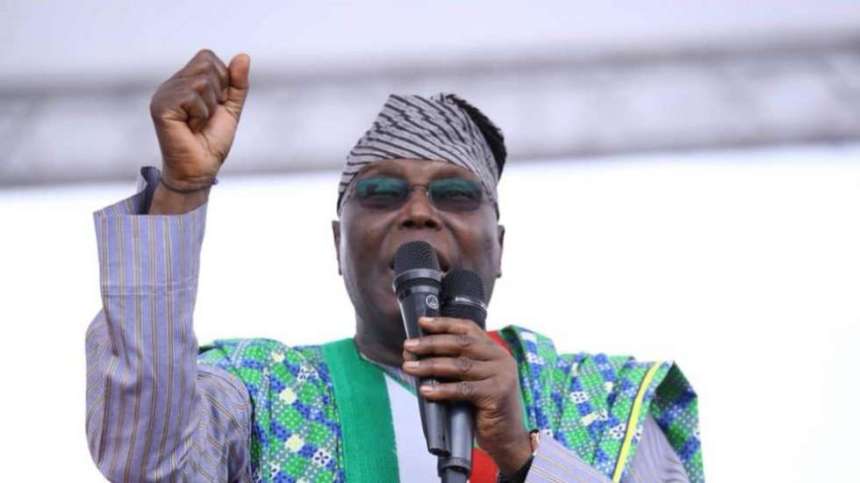 The president had while campaigning in Zamfara State, been reported to have said: "Come out and vote for our choice. May Allah grant us patience; May He bless us with a bountiful harvest, because I want every one of us to be well fed so that even if it comes to violence we are ready."
The former vice president, while addressing supporters during the presidential rally of the party in Port Harcourt, Rivers State, assured the people that he would restructure the country.
He stated, "You know what the President said in Zamfara? He said Zamfara people, let us pray for rainfall, let us pray we grow food, let us pray we eat well and then we can make trouble. Is that what a president should say? Buhari I am addressing you, this is a president who is preaching violence and this is not the first time he is doing this in this country. We are not going to allow anybody to make us fight.
"We want peace, we want development, we want prosperity, we want jobs. That is what we want for this country. We are not ready to fight each other again. So, any leader who has come to instigate us to fight each other, we will use the ballot paper to chase them out. So Buhari must go."
Atiku also assured that he would protect the constitution and would never interfere in the affairs of the National Assembly.
According to him, "I will protect the separation of powers, I will not interfere with the National Assembly, because I believe in checks and balances. I will not interfere with the judiciary, because it is part of our checks and balances. I will uphold the rule of law, I will not allow anyone to trample on the rule of law."
Also speaking, former president, Dr. Goodluck Jonathan, said everyone is aware that from 2015 when Buhari came into power till date that a number of things that had never happened in the country have been happening.
He said: "In 2015, I did mention that the choice before Nigerians was either to move forward or backward. And within these past years, you can attest for yourself, are we going forward, backward or static? All the indices of development be it unemployment, poverty, health status, happiness; everything that is mentioned none of them that we have made any progress. And I believe that you all know that we cannot as a nation continue to stay where we are."
To this end, the former president said that Atiku is the only person that could lead the country out of this quagmire and lead Nigeria forward.
Jonathan stated, "He will not discriminate against you. He will not have a ratio of 97% vs 5%. Every part of this country will be treated equally. If your son or daughter qualifies to be an IG, he will be appointed. If your son or daughter qualifies to be appointed as the Chief of Army Staff, he will be appointed.
"You will not be discriminated against and that is the person that we are all supporting. He has been tested. When he was the Vice President to Olusegun Obasanjo, they did very well. They never discriminated against any part of this country. And that is why the country was relatively stable. I believe and I am sure you all believe – that a vote for Atiku, a vote for PDP is a vote for progress."
On his part, the Governor of Sokoto State, Aminu Tambuwal, said the government at the center is not working, adding that Nigerians must vote out the APC-led federal government to change from analog to digital system.
Kogi: Senator endorses Yahaya Bello for a second term
Senator-elect of Kogi East Senatorial District, Alhaji Jibrin Isah, has backed the second term ambition of the state governor, Alhaji Yahaya Bello.
lo
According to the lawmaker-elect, he arrived at the decision after taking time to think about the welfare and progress of the people of his constituency and the entire Kogi people.
In a statement he personally signed yesterday, Isah said, "I am wholeheartedly endorsing the bid of my friend and brother, Yahaya Bello, for a second term in Office as Governor of Kogi State. I have taken a while to make this decision because the welfare and progress of the great people of my Kogi East Constituency and Kogi State as a whole lie in the balance."
"I am a man who has poured his life into the pursuit of the overall best interests of my people and state. For many years, first as a professional, then as a businessman and lately as a politician, I have dedicated myself to achieving this objective.
"In the process, I have become intimately acquainted with the peculiarities of our state, the challenges of her people and the perfidies of her politicians.
"I have experienced firsthand the character and leadership of several past occupants of Government House, Lokoja and I can attest that Governor Yahaya Bello stands out for trustworthiness, forthrightness and commitment to good governance".
The Senator-elect noted that he would rather have Governor Bello preside over the affairs of Kogi State for the next four years "than any of the other individuals who have shown interest in the job".
He continued: "I admit that no society has ever found Plato's Philosopher-King, that prototypical ruler who by a perfect blend of knowledge, intelligence, reliability and simplicity is the epitome of good governance. Leaders may emerge who display his ideal attributes to a lesser or a greater degree, but none can achieve his perfection.
"Governor Bello is no Philosopher-King, but I have observed that he possesses a sincere desire to lead well, a disposition to serve the people and the political will to take difficult decisions and follow through on them.
"His Excellency has shown great promise in his first term and I am convinced by his track record that he remains our best option towards a brighter future for our state from amongst those who present themselves and meet the legal requirements to run for the position of Governor of Kogi State.
"Governor Bello's Economic Blueprint , which was unfolded during the last Kogi State Economic Summit is being pursued, resulting in various partnership arrangements, meant to harness the abundant natural resources, and equally revive some of the hitherto vibrant government enterprises, in the state , in order to create employment opportunities for all categories of Kogites.
"It is thus my considered opinion, after due consultations with my followers and stakeholders, that for the Kogi State Gubernatorial Elections in November, 2019 our incumbent Governor, Alhaji Yahaya Bello, remains the best candidate. We shall give him our unalloyed fidelity and strong support. I call on all lovers of our state to join me in this worthy endeavour," he stated.