Atiku says Buhari is instigating violence
The presidential candidate of the Peoples Democratic Party (PDP), Alhaji Atiku Abubakar, has accused President Muhammadu Buhari of the All Progressives Congress (APC) of instigating violence ahead of Saturday's presidential and National Assembly elections.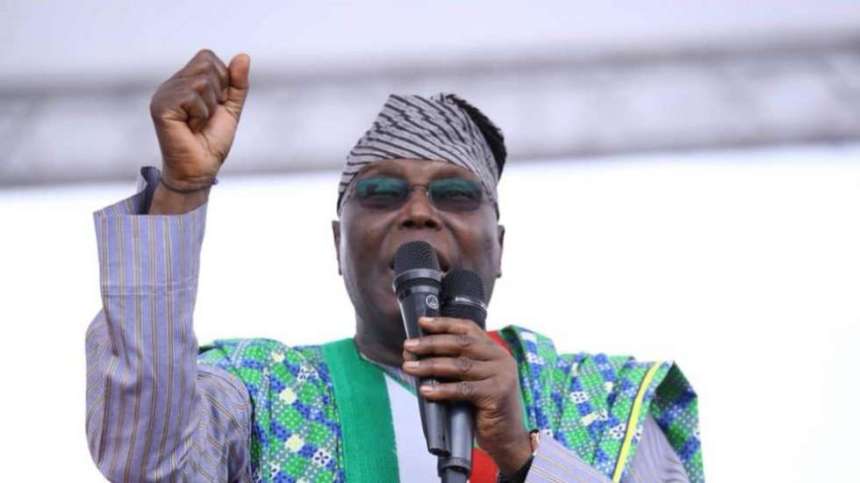 The president had while campaigning in Zamfara State, been reported to have said: "Come out and vote for our choice. May Allah grant us patience; May He bless us with a bountiful harvest, because I want every one of us to be well fed so that even if it comes to violence we are ready."
The former vice president, while addressing supporters during the presidential rally of the party in Port Harcourt, Rivers State, assured the people that he would restructure the country.
He stated, "You know what the President said in Zamfara? He said Zamfara people, let us pray for rainfall, let us pray we grow food, let us pray we eat well and then we can make trouble. Is that what a president should say? Buhari I am addressing you, this is a president who is preaching violence and this is not the first time he is doing this in this country. We are not going to allow anybody to make us fight.
"We want peace, we want development, we want prosperity, we want jobs. That is what we want for this country. We are not ready to fight each other again. So, any leader who has come to instigate us to fight each other, we will use the ballot paper to chase them out. So Buhari must go."
Atiku also assured that he would protect the constitution and would never interfere in the affairs of the National Assembly.
According to him, "I will protect the separation of powers, I will not interfere with the National Assembly, because I believe in checks and balances. I will not interfere with the judiciary, because it is part of our checks and balances. I will uphold the rule of law, I will not allow anyone to trample on the rule of law."
Also speaking, former president, Dr. Goodluck Jonathan, said everyone is aware that from 2015 when Buhari came into power till date that a number of things that had never happened in the country have been happening.
He said: "In 2015, I did mention that the choice before Nigerians was either to move forward or backward. And within these past years, you can attest for yourself, are we going forward, backward or static? All the indices of development be it unemployment, poverty, health status, happiness; everything that is mentioned none of them that we have made any progress. And I believe that you all know that we cannot as a nation continue to stay where we are."
To this end, the former president said that Atiku is the only person that could lead the country out of this quagmire and lead Nigeria forward.
Jonathan stated, "He will not discriminate against you. He will not have a ratio of 97% vs 5%. Every part of this country will be treated equally. If your son or daughter qualifies to be an IG, he will be appointed. If your son or daughter qualifies to be appointed as the Chief of Army Staff, he will be appointed.
"You will not be discriminated against and that is the person that we are all supporting. He has been tested. When he was the Vice President to Olusegun Obasanjo, they did very well. They never discriminated against any part of this country. And that is why the country was relatively stable. I believe and I am sure you all believe – that a vote for Atiku, a vote for PDP is a vote for progress."
On his part, the Governor of Sokoto State, Aminu Tambuwal, said the government at the center is not working, adding that Nigerians must vote out the APC-led federal government to change from analog to digital system.
1999 Constitution is a fair constitution – President Buhari
President Muhammadu Buhari has described the 1999 Constitution as fair to all segments of the country.
To justify his position, Buhari cited the fact that each of the 36 states must have a minister representing it in the cabinet.
He also noted that it was for the same reason that Bayelsa, a small state with only eight local governments, would have three senators in the National Assembly, compared to a big state like Kano with 44 local governments, also having three senators.
Buhari spoke in Abuja when members of the Muhammadu Buhari/Osinbajo Dynamic Support Group visited him at the Presidential Villa.
The group, which was led by the National Coordinator, Usman Ibrahim, was one of the many groups that worked for the re-election of Buhari and Vice-President Yemi Osinbajo during the February 23 presidential poll.
The President said, "The Constitution facilitates one thing; that there must be a member of the (Federal) Executive Council from each state of the federation.
"Why I praise the authors of our constitution is that Bayelsa with eight local governments has three senators and Kano with 44 (local governments) has three senators. So, you can't be fairer than that in the context of one Nigeria.
"Please, try and understand that I appreciate you, you are doing a thankless job; nobody is paying you. You use your resources and time to come together and discuss national issues. I pray God will help us to keep this country strong economically and morally."
He informed the group that his administration was determined to provide safety to all Nigerians, wherever they reside.
"As leaders in your various communities, I urge you all to take the message back to your communities. It is not about politics, religion or tribe, it is about having a Nigeria where our families will be safe and our children will have plenty opportunities to earn a living and have a comfortable life."
Earlier, Ibrahim recounted the sacrifices the group made to ensure Buhari won the election, saying there were instances where the members were attacked, while its coordinator in Kwara State paid the supreme price.
He said the members did their work without asking for any financial support from the President, adding that it was because they believed in Buhari to rescue Nigeria.
He added that the group was blessed with many professionals, who could render their services to the administration if given the mandate to do so.
"We, therefore, request that you give consideration to this noble men and women and we promise that we will never let you down," Ibrahim told Buhari.