Atiku says Buhari is instigating violence
The presidential candidate of the Peoples Democratic Party (PDP), Alhaji Atiku Abubakar, has accused President Muhammadu Buhari of the All Progressives Congress (APC) of instigating violence ahead of Saturday's presidential and National Assembly elections.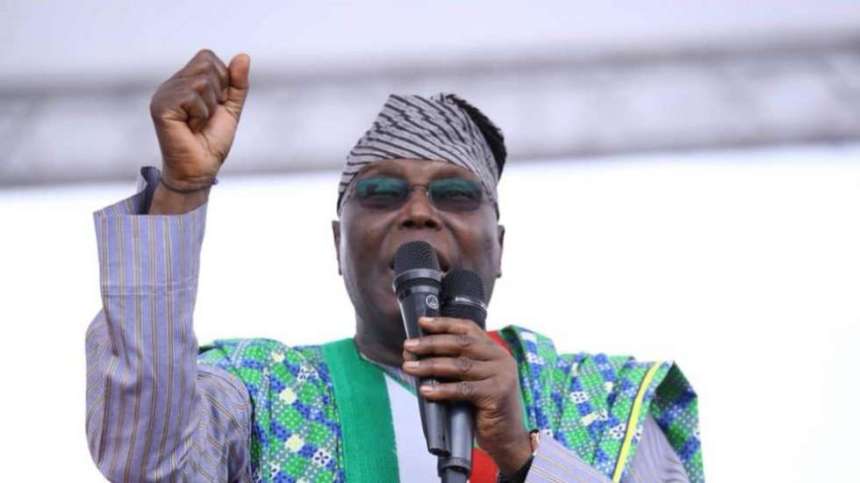 The president had while campaigning in Zamfara State, been reported to have said: "Come out and vote for our choice. May Allah grant us patience; May He bless us with a bountiful harvest, because I want every one of us to be well fed so that even if it comes to violence we are ready."
The former vice president, while addressing supporters during the presidential rally of the party in Port Harcourt, Rivers State, assured the people that he would restructure the country.
He stated, "You know what the President said in Zamfara? He said Zamfara people, let us pray for rainfall, let us pray we grow food, let us pray we eat well and then we can make trouble. Is that what a president should say? Buhari I am addressing you, this is a president who is preaching violence and this is not the first time he is doing this in this country. We are not going to allow anybody to make us fight.
"We want peace, we want development, we want prosperity, we want jobs. That is what we want for this country. We are not ready to fight each other again. So, any leader who has come to instigate us to fight each other, we will use the ballot paper to chase them out. So Buhari must go."
Atiku also assured that he would protect the constitution and would never interfere in the affairs of the National Assembly.
According to him, "I will protect the separation of powers, I will not interfere with the National Assembly, because I believe in checks and balances. I will not interfere with the judiciary, because it is part of our checks and balances. I will uphold the rule of law, I will not allow anyone to trample on the rule of law."
Also speaking, former president, Dr. Goodluck Jonathan, said everyone is aware that from 2015 when Buhari came into power till date that a number of things that had never happened in the country have been happening.
He said: "In 2015, I did mention that the choice before Nigerians was either to move forward or backward. And within these past years, you can attest for yourself, are we going forward, backward or static? All the indices of development be it unemployment, poverty, health status, happiness; everything that is mentioned none of them that we have made any progress. And I believe that you all know that we cannot as a nation continue to stay where we are."
To this end, the former president said that Atiku is the only person that could lead the country out of this quagmire and lead Nigeria forward.
Jonathan stated, "He will not discriminate against you. He will not have a ratio of 97% vs 5%. Every part of this country will be treated equally. If your son or daughter qualifies to be an IG, he will be appointed. If your son or daughter qualifies to be appointed as the Chief of Army Staff, he will be appointed.
"You will not be discriminated against and that is the person that we are all supporting. He has been tested. When he was the Vice President to Olusegun Obasanjo, they did very well. They never discriminated against any part of this country. And that is why the country was relatively stable. I believe and I am sure you all believe – that a vote for Atiku, a vote for PDP is a vote for progress."
On his part, the Governor of Sokoto State, Aminu Tambuwal, said the government at the center is not working, adding that Nigerians must vote out the APC-led federal government to change from analog to digital system.
Egypt's parliament approves extended presidential tenure
Egypt's parliament has overwhelmingly approved proposed constitutional changes that would allow Egyptian President Abdel-Fattah el-Sissi to potentially stay in office until 2034.
The changes, which must be approved by a referendum to enter into force, would also further authority of the Armed Forces in "maintaining the foundations of the civil state."
Egypts parliament, which has 596 members, saw 485 votes in favor of the changes. The body is largely made up of supporters of the president. According to The Associated Press, the amendments will be submitted to a committee to finalize the language, then parliament will vote again.
Egyptian human rights groups are expressing alarm. Eleven groups signed a statementsaying that the amendments "effectively serve to destroy the constitutional separation of powers, concentrating all authority into the presidents hands and solidifying his authoritarian rule."
In 2013, then-Defense Minister El-Sissi led a coup against Egypts first democratically elected president, Mohammed Morsi, following mass popular protests against him. Morsi, who hails from the Muslim Brotherhood, was in office for one polarizing year.
Since then, el-Sissi has launched an unprecedented crackdown on dissent, and rights groups say he has jailed tens of thousands of his political opponents (though he deniesthat Egypt has any political prisoners). He was elected to a second term in 2018, in a race where "six potential candidates were either jailed or dropped out," as NPRs Jane Arraf reported.
According to Egypts constitution, passed in 2014 after the coup, this term should be his last.
"The President of the Republic shall be elected for a period of four calendar years," the constitution currently reads. "The President may only be reelected once."
The amendments would also strengthen the presidents power over the judiciary. For example, it would allow him to appoint the head of the Supreme Constitutional Court, the prosecutor general, and other senior position.
Proponents of the changes say they are necessary for Egypts stability.
According to Mada Masr, earlier this month as the proposed amendments were submitted, parliamentary speaker Ali Abdel Aal said: "We are not restricting any of the freedoms guaranteed by the Constitution, and we are not touching the principle of equality between Egyptians in regards to rights and obligations. …These amendments serve the Egyptian people and the higher interests of the state."
But for opponents, such as the human rights groups, its another nail in the coffin for Egyptian hopes for democracy following the 2011 ouster of dictator Hosni Mubarak.
"Not only do these individually-tailored provisions flout fundamental legal precepts, they also upend the peaceful rotation of power championed by the Egyptian people in 2011 to prevent another decades-long dictatorial rule similar to that of former President Hosni Mubarak, toppled after 30 years in power," the groups said.