Egypt's parliament approves extended presidential tenure
Egypt's parliament has overwhelmingly approved proposed constitutional changes that would allow Egyptian President Abdel-Fattah el-Sissi to potentially stay in office until 2034.
The changes, which must be approved by a referendum to enter into force, would also further authority of the Armed Forces in "maintaining the foundations of the civil state."
Egypts parliament, which has 596 members, saw 485 votes in favor of the changes. The body is largely made up of supporters of the president. According to The Associated Press, the amendments will be submitted to a committee to finalize the language, then parliament will vote again.
Egyptian human rights groups are expressing alarm. Eleven groups signed a statementsaying that the amendments "effectively serve to destroy the constitutional separation of powers, concentrating all authority into the presidents hands and solidifying his authoritarian rule."
In 2013, then-Defense Minister El-Sissi led a coup against Egypts first democratically elected president, Mohammed Morsi, following mass popular protests against him. Morsi, who hails from the Muslim Brotherhood, was in office for one polarizing year.
Since then, el-Sissi has launched an unprecedented crackdown on dissent, and rights groups say he has jailed tens of thousands of his political opponents (though he deniesthat Egypt has any political prisoners). He was elected to a second term in 2018, in a race where "six potential candidates were either jailed or dropped out," as NPRs Jane Arraf reported.
According to Egypts constitution, passed in 2014 after the coup, this term should be his last.
"The President of the Republic shall be elected for a period of four calendar years," the constitution currently reads. "The President may only be reelected once."
The amendments would also strengthen the presidents power over the judiciary. For example, it would allow him to appoint the head of the Supreme Constitutional Court, the prosecutor general, and other senior position.
Proponents of the changes say they are necessary for Egypts stability.
According to Mada Masr, earlier this month as the proposed amendments were submitted, parliamentary speaker Ali Abdel Aal said: "We are not restricting any of the freedoms guaranteed by the Constitution, and we are not touching the principle of equality between Egyptians in regards to rights and obligations. …These amendments serve the Egyptian people and the higher interests of the state."
But for opponents, such as the human rights groups, its another nail in the coffin for Egyptian hopes for democracy following the 2011 ouster of dictator Hosni Mubarak.
"Not only do these individually-tailored provisions flout fundamental legal precepts, they also upend the peaceful rotation of power championed by the Egyptian people in 2011 to prevent another decades-long dictatorial rule similar to that of former President Hosni Mubarak, toppled after 30 years in power," the groups said.
Osinbajo rallies APC supporters for polls in Kano, others
Vice President Yemi Osinbajo has urged All Progressives Congress (APC) members not to relax or take anything for granted ahead of the March 23 governorship election rerun in some states.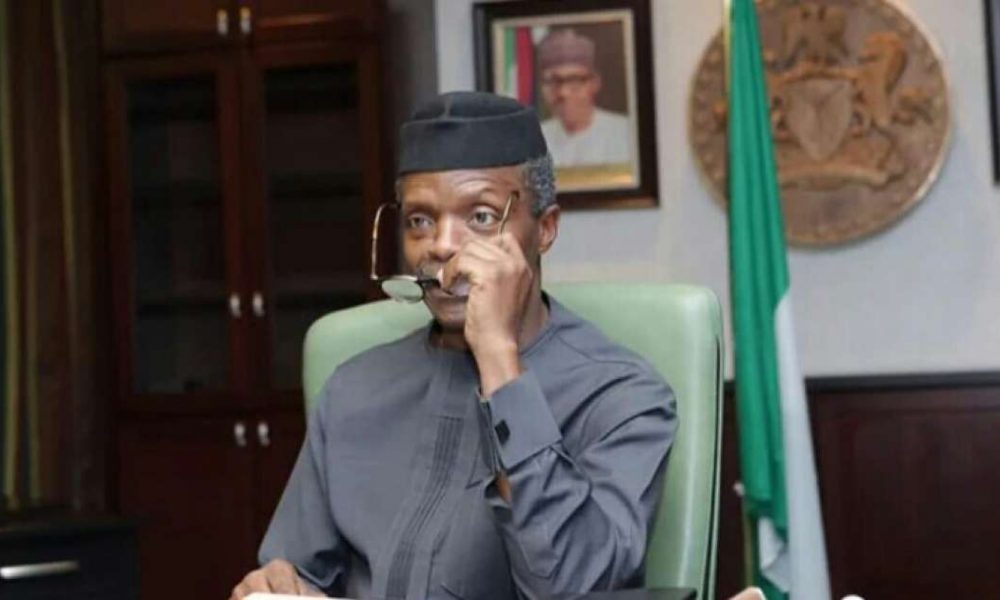 Osinbajo communicated this while addressing party faithful at the PMB/PYO Volunteers Appreciation Dinner at the State House Banquet Hall on Thursday in Abuja.
INEC has fixed March 23 for supplementary elections in Adamawa, Bauchi, Benue, Kano, Plateau and Sokoto states where governorship elections were declared inconclusive.
He thanked the volunteers for their commitment and trust, saying that with the re-election of President Muhammadu Buhari, Nigeria was on course for greatness.
"I believe that with your support our country will continue to move forward; everything we want for our country will be done, and by the grace of God, every one of  the President's projects will be done.
`Our economy will turn around and we will see prosperity in this great nation.
"Let me just say that we are still not done with elections.
"On March 23, we still have some outstanding states; as you know, there are rerun elections in about six states.
" And we still need to put efforts in those six states. We cannot afford to slack up and say the job is done; we still have some things to be done,'' he said.
Osinbajo expressed APC's condolences to the families of those who lost their lives during the process, and asked for a minute silence in their honour.
He said that the campaign was about the Nigerian people whom he said were very trusting and supportive of their leaders without asking for much.
The vice president said  that the Buhari-led government had achieved much in four years in spite of earning less—a feat  which was achieved because of Mr President's honesty and integrity.
Mr Ade Ipaye, Deputy Chief of Staff to the President, said that Nigerians had demonstrated their confidence in the ability of Buhari and Osinbajo to pilot the nation.
He said that Nigerians not only voted but made sure that their votes counted.
Ipaye commended the President and vice president over their energetic campaign that saw them going round the country.
The deputy chief of staff also thanked God for securing the President,  vice president and the campaign team throughout the campaign.
Retired Brig-Gen.  Buba Marwa, Director,  Women and Youths, APC Campaign Team,  expressed appreciation to Osinbajo for arranging a platform to thank the volunteers.
He thanked God for protecting the vice president in the helicopter crash as he and the crew all came out unscathed.
Marwa said that Osinbajo exhibited uncommon commitment and courage by proceeding with his schedule shortly after the crash.
"Something told me we will be victorious after the vice president survived the crash.
"Why else should the vice president survive if not that God has prepared him for another four years.
"He continued with his campaign immediately after the crash; he deserves applause.
"We thank God for the president who was able to visit all the states; he went to each and every state.
"This is the first time we are seeing a vice president mingling with the downtrodden in the markets and everywhere."
There were also goodwill messages from some other party functionaries.
The gathering was thrilled by a cultural troupe and comedians.