Tinubu promises to reward APC members
The National Leader of All Progressives Congress, Asiwaju Bola Tinubu, has promised to give a substantial amount of money to the party faithful if their votes can secure reelection for President Muhammadu Buhari.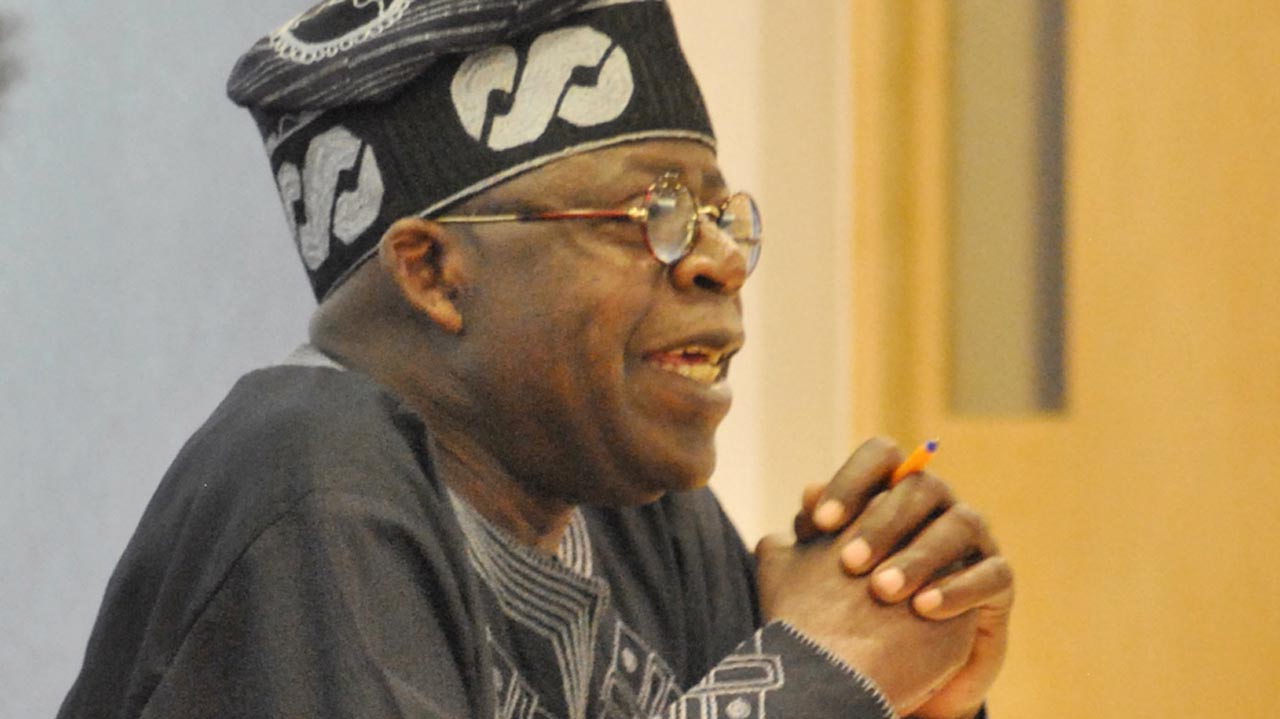 Tinubu, former governor of Lagos State, also disclosed that he had enough money to bankroll elections without requesting any money from Buhari or dipping his hands in Lagos State's treasury.
He made the remarks in a leaked audio tape THISDAY obtained yesterday from an authoritative source that pleaded anonymity.
In the tape, Tinubu said, "For all those who have come to Bourdillon, you know why we are here. We are here for mobilization. You know what I mean by mobilization.
"So, as registered APC members, you have to go and get your neighbors to come out and vote for the APC. It is after I have seen the favorable results of the elections that I will bring out good money.
"Buhari does not have the money that I want to steal and he doesn't have the money I want to take from him. Also, he does not have the war chest for this presidential election.
"Therefore, whatever I'm promising you is for real – and it is coming from my own pocket. It is not until I go to Alausa before I can get money to give you."
He, however, told the APC supporters who had come to visit him in preparation for the now-postponed presidential and federal parliamentary polls that he would reward them financially after they had "delivered victory" for Buhari.
Explaining why, Tinubu stated: "Before now, party faithful would gather here around me like ants around sugar, asking for mobilization. They always succeeded in getting something substantial from me with many of them from the same areas.
"That was then. This time it does not matter if your footwear wears out. Once you can deliver in this election, I am committed to giving money that is substantial. We'll never lack." The maverick politician also stunned his supporters when he admitted demeaning the people of Osun State. Until now Tinubu had denied making any denigrating statements regarding the financial capacity of the state.
Lawan, Ndume, Goje intensify Senate leadership battle
The battle for the Ninth President of the Senate has heightened with senators-elect involved in signatures drive for the three contenders – Senate Leader Ahmad Lawan, Chairman of the Senate Committee on Appropriations Danjuma Goje and the former Senate Leader Ali Ndume.
All the three camps have been overwhelmed by tally counting ahead of the election of principal officers in the next dispensation.
But the three contenders have kept their tallies under wraps while intensifying strategic sessions and lobbying of their colleagues across party divides.
Although Lawan group has adopted a one-on-one strategy in its final phase of the campaign, the PDP has initiated plot to give block vote. It was learnt that a former Abia deputy governor, Senator Enyinnaya Abaribe, has been coordinating the opposition group.
Investigation revealed that the inauguration of the Ninth National Assembly will hold on June 11 after the Senate President Bukola Saraki and the House of Representatives Speaker Yakubu Dogara, would have completed their tenure.
Saraki and Dogara will leave office on June 9, 2019, to end turbulent four-year tenure.
All the three contenders are locked in permutations with a collection of signatures of Senators-elect.
While APC senators-elect are trying to remain intact, some of the PDP senators-elect are opposed to block vote.
The opposition senators-elect met in the home of their coordinator, Sen. Enyinnaya Abaribe, a few days ago to strategize ahead of the election of the principal officers of the Senate.
After the session, some of the senators-elect later had an audience with one of the principal officers of the Senate to brief him on the situation at hand.