Elections: Nigerian army ready to provide security
Ahead of Saturday's governorship and state Houses of Assembly elections, the Nigerian Air Force has deployed fighter planes and attack helicopters in some potential flashpoints across the country.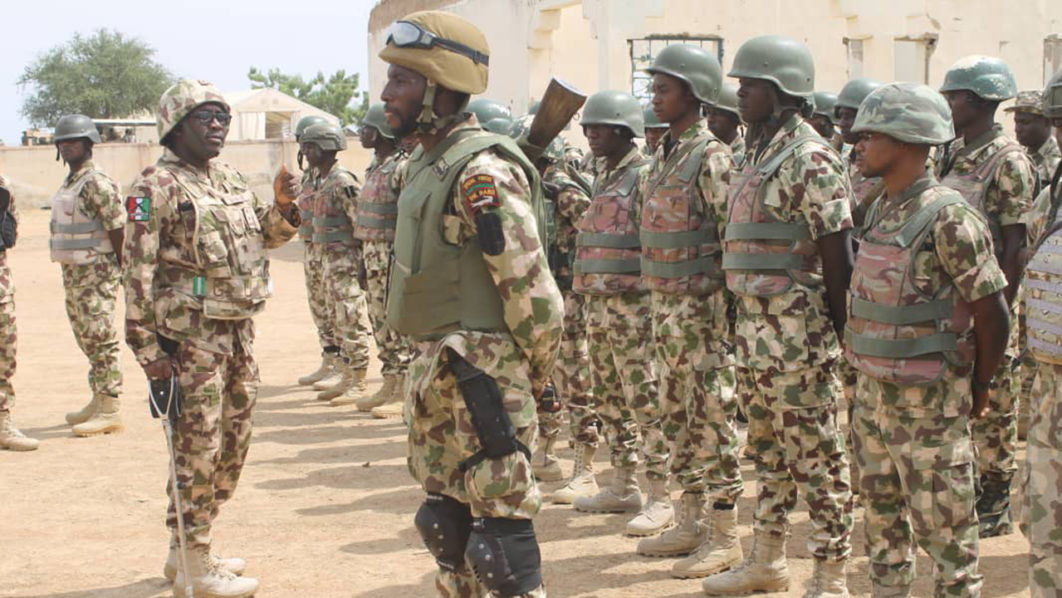 The air wing of the Nigerian military also said it has concluded airlifting of electoral materials to 31 locations in the country for onward distribution to Central Bank of Nigeria (CBN) locations and polling stations.
In a chat with newsmen, NAF spokesman, Air Commodore Ibikunle Daramola, said attack helicopters, fighter planes and intelligence gathering platforms have been put on standby for potentially violence-prone areas.
He said: "We have other aircraft, the ISR platforms, attack platforms, and helicopters; they have been deployed in different locations across the country.
"Depending on where they are, they provide surveillance, reconnaissance in a show of force. They give feedback to operations or situation room."
On the airlifting of election materials, he said NAF had concluded delivery and was looking forward to a successful election.
According to him, "In terms of delivery of electoral materials to all the 31 locations that have been done because that is where they have airfields and we used the transport aircraft.
"From those locations, the materials are moved to the various CBN locations and local government areas that cover INEC logistics responsibilities. We are good to go."
The Chief of Air Staff, Air Marshal Sadique Abubakar, had at a meeting with Air Force commanders, said contingency plans were put in place in case of any breakdown of law and order.
He said NAF hospitals and medical centers were put on the alert to assist in attending to any medical emergencies.
On election materials, Abubakar said eight aircraft were deployed in the airlift operations flying a total of about 340 hours in 257 sorties with about 120 crew members comprising pilots, technicians and other specialists operating on a round-the-clock basis.
Also briefing on the elections, the Independent National Electoral Commission (INEC) declared its readiness, adding that all materials for the elections have been delivered to all states and the Federal Capital Territory (FCT).
There would be governorship elections in 29 states and assembly polls in 36 states, with FCT holding its area councils contests.
The commission also warned that it would not tolerate the act of holding its official's hostage and forcing them to declare winners under duress, saying that if such occurs, it would not issue Certificates of Return to any culpable politician.
The Chairman of the commission, Prof. Mahmood Yakubu, disclosed this Thursday during the Inter-agency Consultative Committee on Election Security (ICCES) meeting held at INEC Headquarters, Abuja, where he equally decried the loss of its electoral materials to hooliganism and violence.
He added that all materials and relevant personnel would arrive at the Registration Area Centres (RACs) today, noting that with this arrangement the commission is confident that all polling units will open at 8 a.m. nationwide.
Yakubu stated: "On Saturday, 9th March 2019, Nigerians are once again going to the polls to elect governors in 29 States, 991 members of Houses of Assembly in all the states of the federation, 6 chairmen as well as 62 councilors for the Area Councils in the FCT.
"A total of 1,082 candidates will be elected by citizens across the country. Learning from the experience of the presidential and National Assembly elections held two weeks ago, the commission has effectively tackled the challenge of logistics. Materials for the election have been delivered to all states and the FCT. The movement to the Local Government Areas will be completed Thursday.
President Buhari appointments new DG for NESREA
President Muhammadu Buhari has appointed Prof. Aliyu Jauro as the new Director General/ Chief Executive Officer of the National Environmental Standards and Regulations Enforcement Agency (NESREA).
NESREA's Deputy Director (Information), Oyofo Sule, in a statement on Monday, said that Jauro takes over from Dr. Lawrence Chidi Anukam whose tenure expired on the 17th of February 2019.
According to the statement, Jauro, before the appointment, was Deputy Director at the National Centre for Petroleum Research and Development, Abubakar Tafawa Balewa University, (A.T.B.U) Bauchi.
He holds a Bachelor of Tech. Degree in Industrial Chemistry from A.T.B.U Bauchi and MSc and PhD Degrees in Industrial Chemistry from the same University.
He joined the university as a Graduate Assistant in 1997 and rose through the ranks to become a Prof in Industrial Chemistry in 2014.
Addressing the Management and Staff on assumption of office, the new Director General declared, "I am here to move the Agency to the next level.
"I expect high standard of professionalism, integrity and dedication to duty."
He promised to operate an open-door policy, stressing that he will bring his wealth of experience to bear in ensuring that NESREA lives up to its mandate.
He commended the acting Director General, Mrs. Miranda Amachree for the achievements recorded in her short period in that capacity.
Prof. Jauro won the German Academic Exchange Scholarship (DAAD) and the European Association of Organic Geochemists (EAOG) Travel Grant in 2005.
He is a fellow of the Chemical Society of Nigeria (CSN), as well as a member of the Institute of Chartered Chemists of Nigeria, (MICCON) and of Polymer Institute of Nigeria (MPIN).