Army arrests 24 over ballot snatching
The Nigerian Army said it arrested no fewer than 24 suspects in connection with electoral offenses during the Saturday Governorship and House Assembly elections in Imo, Abia and Cross River.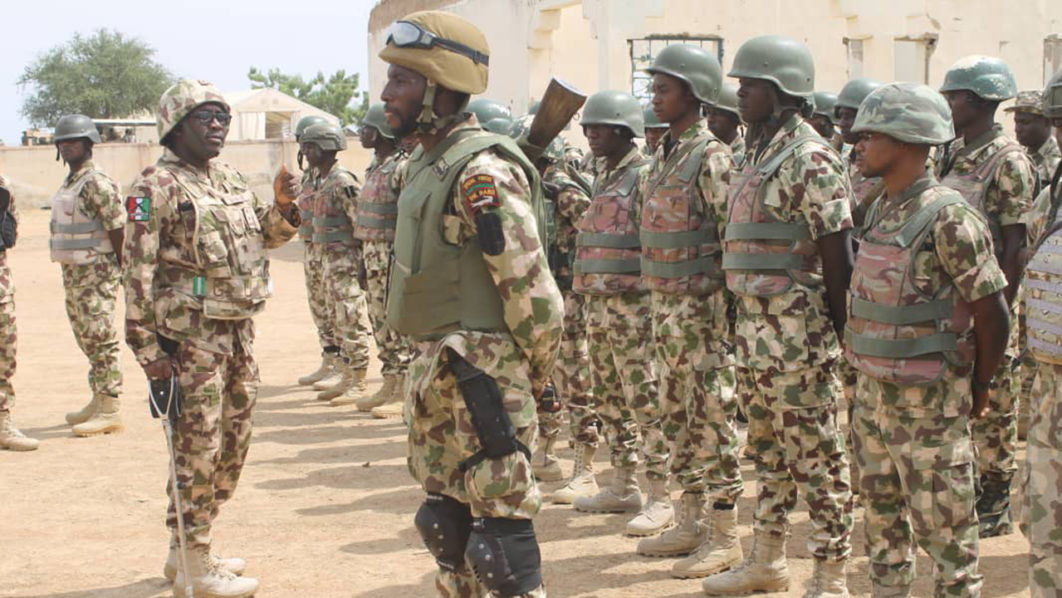 In a statement on Tuesday, Sagir Musa, the army spokesperson said 15 suspects were arrested in Abia.
Mr. Musa said of the 15 suspects, five were political thugs, arrested at Lokpanta while on their way to disrupt election at Lekwesi community.
The army spokesperson said camouflage trousers, daggers and assorted charms were recovered from them.
He said the other six suspects were arrested at Osisioma junction while they were conveying already thumb printed ballot papers in a vehicle.
Mr Musa said troops also rescued an INEC staff abducted by hoodlums at Ohafia Technical College in Anna village.
He said that four suspects were arrested in connection with the case while efforts were on to apprehend other fleeing members of the gang.
Mr Musa said that the four suspects had been handed over to the police for further action.
In Imo, the army spokesman said four suspected fake soldiers in military uniform (woodland camouflage were nabbed around Everyday Super Market in Owerri.
He said the suspects were "escorting a prominent female politician in a political party vehicle'' at the time of arrest.
Mr. Musa said troops also intercepted and arrested suspected ballot box snatchers at Airforce junction near Ngor Okpala Local Government Area of Imo during the election.
He said that on sighting the troops, the suspects abandoned their vehicle and ran into the bush.
"Items recovered include one Sienna bus, one pump action gun with 11 live cartridge, voter cards and assorted ATMs bearing different names.''
Mr. Musa said in Cross River, troops on patrol around power plant substation, Odukpani Local Government Area, rescued one Authur Nkama, kidnapped at Ikot Ansa in Calabar Municipal Area Council.
Nigeria joins other countries in grounding Boeing 737 Max
The federal government has banned Boeing 737 Max airplanes from flying into Nigeria's airspace until further notice.
Minister of State, Aviation, Hadi Sirika, disclosed this to State House correspondents after the Federal Executive Council meeting presided over by President Muhammadu Buhari at the Presidential Villa, Abuja.
This is a direct reaction to the Ethiopian Airlines Boeing 737 crash on March 10 morning enroute from Addis Ababa to Nairobi, killing all 149 passengers and eight crew on board. Subsequently, the European Union, UK, China and India banned the Boeing 737 Max from flying over their airspace due to concerns over passenger safety. Also Ethiopia, Singapore, China, France, Ireland, Germany, Australia, Indonesia and Malaysia have all temporarily suspended the 737 Max.
The aviation minister yesterday reiterated that no operator in Nigeria was using that type of airplane. He said: "Regarding Boeing 737 Max 8 and Max 9 that have been in the news recently, there is no cause for alarm as there is no operator in Nigeria that is using that type of airplane.
"The Nigeria Civil Aviation Authority (NCAA), whose mandate it is to issue advisory, has already issued advisory that nobody should fly into Nigeria or out of Nigeria using Boeing 737 Max 8 and Max 9 pending the determination of the actual cause of the crash in Ethiopia and also pending the outcome of the response of the manufacturer, which is Messers Boeing."
He remarked that "regardless of the enormous safety records of this plane, Boeing 737, it has caused concern in the world of aviation and you know aviation is universal – whatever affects one affects the other, because aircraft will be flying in and out.
"So, we have issued directive that no operator with Boeing 737 Max 8 or Max 9 should operate into and outside our airports and this is being carried out."
Speaking on the orders placed by Air Peace and Arik for the supply of that brand of airplanes, the minister noted that they would not be delivered in the country until the next two years "and this is enough period to sort out whatever problem it is with that plane.
"The world of aviation will not be sleeping just as we in Nigeria will not be sleeping. And it is normal standard practice that once a particular aircraft type is involved in accident back to back, it is withdrawn from the market to see if there is something they are doing wrong. And if it is confirmed that a particular problem, say for instance, landing gear, they will issue an instruction to ground such plane worldwide until the problem is fixed. So, this case is not different," he said.
Sirika gave assurance that authorities would be alive to their responsibility, which is to secure life and property.