Celebration turns bloody in Taraba state
Governor Darius Ishaku of Taraba State has extended the dusk to dawn curfew he imposed on Jalingo to 24 hours as a celebration to mark his reelection turns bloody.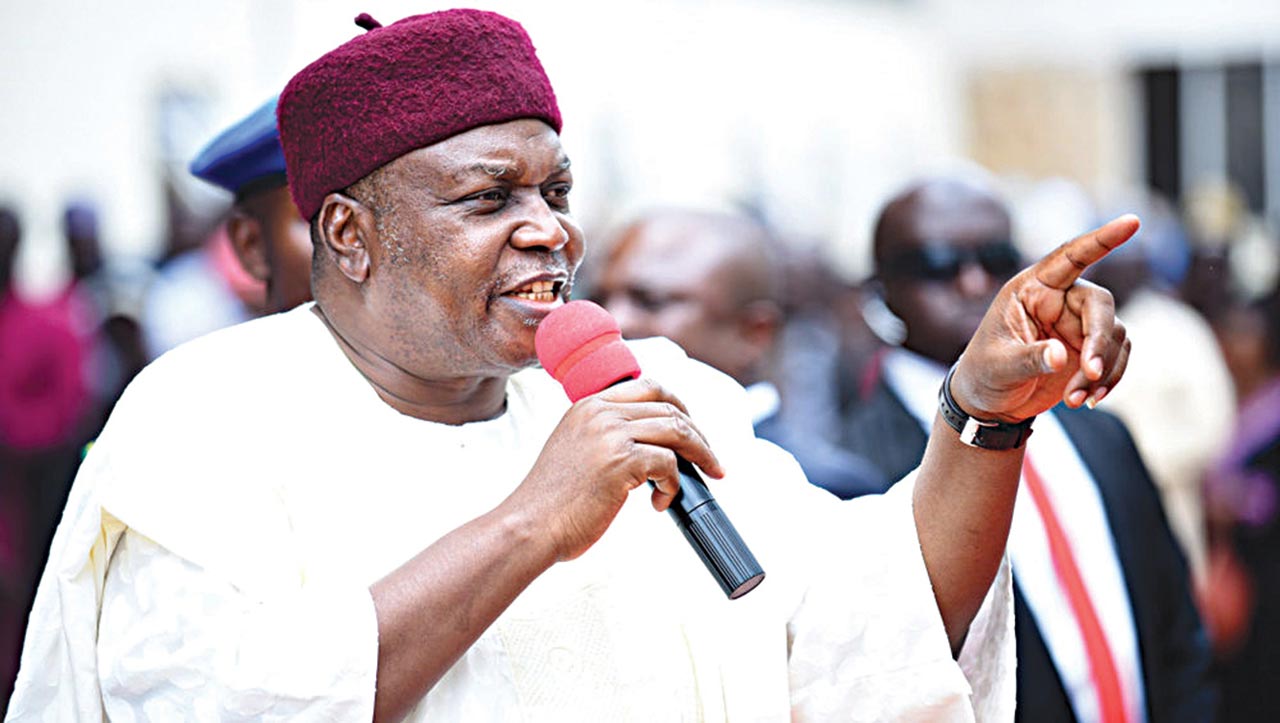 Ishaku had imposed a dusk to dawn curfew on Jalingo on Monday to avert a breakdown of law and order in the town as there were credible intelligence reports that there were plans in certain quarters to sponsor violence.
However, the peace in the town was shattered Tuesday morning as youths and women groups who trooped out in their thousands to celebrate Ishaku's victory at the polls were attacked by some armed youths who inflicted injuries on them.
The incident led to serious pandemonium across the town as people ran helter-skelter to avoid being caught in a crossfire thereby necessitating the extension of the curfew.
In a statement released on Tuesday by his Senior Special Assistant on Media and Publicity, Mr. Bala Dan Abu, the governor said the curfew would remain in force till further notice.
The statement directed all security agencies in the state to ensure strict compliance and enforcement of the curfew.
Meanwhile, a community leader in the town, Alhaji Bello Yero, has urged youths in the town to eschew violence and refrain from being used to breach the security of the state.
Speaking to Journalists against the backdrop of violence that led to the imposition of the curfew, Alhaji Yero also warned opposition politicians in the state to join hands with Ishaku to bring peace and development to the state.
Nigeria joins other countries in grounding Boeing 737 Max
The federal government has banned Boeing 737 Max airplanes from flying into Nigeria's airspace until further notice.
Minister of State, Aviation, Hadi Sirika, disclosed this to State House correspondents after the Federal Executive Council meeting presided over by President Muhammadu Buhari at the Presidential Villa, Abuja.
This is a direct reaction to the Ethiopian Airlines Boeing 737 crash on March 10 morning enroute from Addis Ababa to Nairobi, killing all 149 passengers and eight crew on board. Subsequently, the European Union, UK, China and India banned the Boeing 737 Max from flying over their airspace due to concerns over passenger safety. Also Ethiopia, Singapore, China, France, Ireland, Germany, Australia, Indonesia and Malaysia have all temporarily suspended the 737 Max.
The aviation minister yesterday reiterated that no operator in Nigeria was using that type of airplane. He said: "Regarding Boeing 737 Max 8 and Max 9 that have been in the news recently, there is no cause for alarm as there is no operator in Nigeria that is using that type of airplane.
"The Nigeria Civil Aviation Authority (NCAA), whose mandate it is to issue advisory, has already issued advisory that nobody should fly into Nigeria or out of Nigeria using Boeing 737 Max 8 and Max 9 pending the determination of the actual cause of the crash in Ethiopia and also pending the outcome of the response of the manufacturer, which is Messers Boeing."
He remarked that "regardless of the enormous safety records of this plane, Boeing 737, it has caused concern in the world of aviation and you know aviation is universal – whatever affects one affects the other, because aircraft will be flying in and out.
"So, we have issued directive that no operator with Boeing 737 Max 8 or Max 9 should operate into and outside our airports and this is being carried out."
Speaking on the orders placed by Air Peace and Arik for the supply of that brand of airplanes, the minister noted that they would not be delivered in the country until the next two years "and this is enough period to sort out whatever problem it is with that plane.
"The world of aviation will not be sleeping just as we in Nigeria will not be sleeping. And it is normal standard practice that once a particular aircraft type is involved in accident back to back, it is withdrawn from the market to see if there is something they are doing wrong. And if it is confirmed that a particular problem, say for instance, landing gear, they will issue an instruction to ground such plane worldwide until the problem is fixed. So, this case is not different," he said.
Sirika gave assurance that authorities would be alive to their responsibility, which is to secure life and property.