Okorocha bares his mind on Imo state election, INEC, Oshiomhole and more
Imo State Governor Rochas Okorocha bares out his minds on recent clash with his party,  All Progressives Congress (APC), Independent National Electoral Commission (INEC) and his with held certificate of return. 
He noted that the APC National Chairman Adams Oshiomhole, is fast turning the party to regional minority party adding that if the activities of the chairman is not checked, APC might have serious set back in the year 2023.
Okorocha spoke with State House correspondents after meeting with President Muhammadu Buhari at the Villa in Abuja.
On the mistake of 2015 and the emergence of new leadership for the National Assembly, Okorocha said: "I have been watching carefully what is happening in the National Assembly, it's a very interesting drama. But all I ask them is that they should consider the South East in their calculations.
"This nation will not be properly balanced if South-east is not carried along properly in the affairs of the National Assembly. Nobody seems to be talking about the South-east, it looks like the South-east doesn't have a place anymore, that is wrong, politically speaking and that is not good for APC.
"Because there is going to be a bigger APC after President Muhammadu Buhari must have left the seat. My fear now is that APC might have a serious set back in 2023 because the Oshiomhole's led executive is actually turning APC into a regional minority party which shouldn't be because of his mistakes.
"Right now in the whole South-east, we don't have an APC governor. So if there is any discussion in Nigeria now within the APC governors and President Muhammadu Buhari, there would be nobody from the South East.
"This is what the APC Chairman has done in the South-east. I think it's a capital attempt to frustrate the efforts of the South-east. But I appeal to every Nigerian to support the cause of the South-eEast.
"They shouldn't think about giving South East, whatever position for giving sake. You can't just wake up and give them any position. South East is a key primary zone in this country and if we don't get the number one seat, we should get the number two seat." he said
He also blamed Oshiomhole for his predicament. According to him, INEC has no right to withhold his certificate of return.
Asked why his party is not making any case for his certificate of return, he said: "I won't be surprise because, of course, you know the imposition we suffered in the party. When you say the party, you talk about the leadership of that party. I don't have problem with the Working Committee of that party, I only have problem with the chairman of that party as he took it upon himself to do the wrong thing against me for just no cause and to fight a battle that he can never win.
"No, he is the one that is behind all these impositions, can you imagine, as I speak to you the APC candidate in Imo State did not win a seat, APC does not have a councilor in Imo State now, it does not even have a House Member.
"But the AA party has eight seats in the Imo State House of Assembly, two Federal House and they have one senator about to come to the Senate. This is why internal democracy must be respected, let the will of the people prevail rather than this imposition.
"It is unfortunate what has happened in Imo State. At least, I have been vindicated for the fact that I said the APC candidate they are imposing on Imo people is not popular, he came from the opposition. When I was the leader of that party, when I was running the affairs of that party, we won 24 seats in the House of Assembly, we have governor, federal house members but today APC does not have because of imposition." he said
On the true position regarding his certificate of return, he said "As it stands today, I am just waiting patiently for the release of my certificate of return for election that I duly won, and I am hoping that INEC will release my certificate of return.
"I have not contravened any section of the constitution and I have not done anything wrong not to be given my certificate. I pray and hope INEC would do what is just and what is right."
Asked if he discussed the issue with the President, Okorocha said "I don't think that would have been necessary to do because, it's a straight forward matter. INEC conducted election, results were declared – the returning officer declared the results and I won. Only, one week later to hear that somebody wrote a petition that he issued that declaration under duress. I say where? Was it in his private house or was it in the collation Centre?
"If it is the collation, SSS were there, police were there, international observers, INEC officials and many others. So who actually put him under duress?" he queried
"The man has not been able to say that. Nobody has ever sent a statement about that. But I think INEC would want to do the right thing very very soon.
"Now in the same way, the governorship candidate of PDP never won that election because the election flouted section 179 of the constitution of the Federal Republic of Nigeria which says that you must have the highest votes and you must have 25 percent in two third of the local governments.
"Now, this gentleman who was declared the winner by the same INEC, had 135,000 votes from 24 local government but had over 130,000 votes from his three local governments. Of course you know, he didn't win that election. But even at that, we had the highest mark, the Returning Officer of INEC was never patient to even calculate to know that it was 200,000 votes cancelled and there is supposed to be a rerun.
"Also flouting that basic constitution of the federal republic of Nigeria which says you must have 25 percent in two-third, he doesn't have it.
He was confident that there would be rerun election in his state.
"So, as far as I am concern, there will be a rerun in Imo State and the Prof that did that should either be de-robed as a professor and he should be charged for that serious offence of not respecting the constitution of the federal republic of Nigeria. What this means is that someday, one crazy person might just walk on the street and take one mad man, give him result sheet and declared him winner even if the man did not belong to a party.
"And we are getting to a stage in this country that once you are declared, you are declared. This is the crazy thing that is happening in Imo State and also it happened in Okigwe zone where a loser ran away with the result sheet. The person came fifth, and is trying to return himself. Up till now as I speak to you the Okigwe senatorial seat has not been declared.
"I don't know what INEC is waiting for because the man who won the election they could not declare him. Now the person who ran with the result sheet, and the Prof ran away to the US, he is not back. So there is a stalemate everywhere, I think INEC should revisit Imo matter." he stated
He said that his relationship with the President is intact despite what has been happening in his state.
"As a matter of fact, Buhari is a great man, he is a man of wisdom, a visionary leader. That is why you see some of us going along with him. It's for what he has upstairs – he can see far, that is why he made that declaration in Imo State – 'vote according to your conscience. It was in Imo state that he first use that word. So my relationship with him is not affected in anyway."
On why he visited the President, he said "I came here precisely to discuss with Mr President to come and commission my projects. I have completed the construction of a new Cargo Airport Terminal, Warehouses and cargo sheds that is to be commissioned.
"I have also completed a new police headquarters and also a new prison headquarters in Imo State. These are federal government projects built by Imo State government.
"Another landmark project is the Justice Oputa Court – the new Imo State High Court Complex which we have built.
"So, we have over a thousand verifiable projects to be commissioned. So I am requesting Mr President to kindly commission the federal ones and see how many of the state's projects he could commission for me. This is precisely why I am here." he said
APC challenges Atiku's nationality. The former vice president replies
Atiku Abubakar, the Peoples Democratic Party (PDP) presidential candidate in the 2019 election, has said the All Progressives Congress (APC) does not deserve an answer, after contesting his Nigerian citizenship.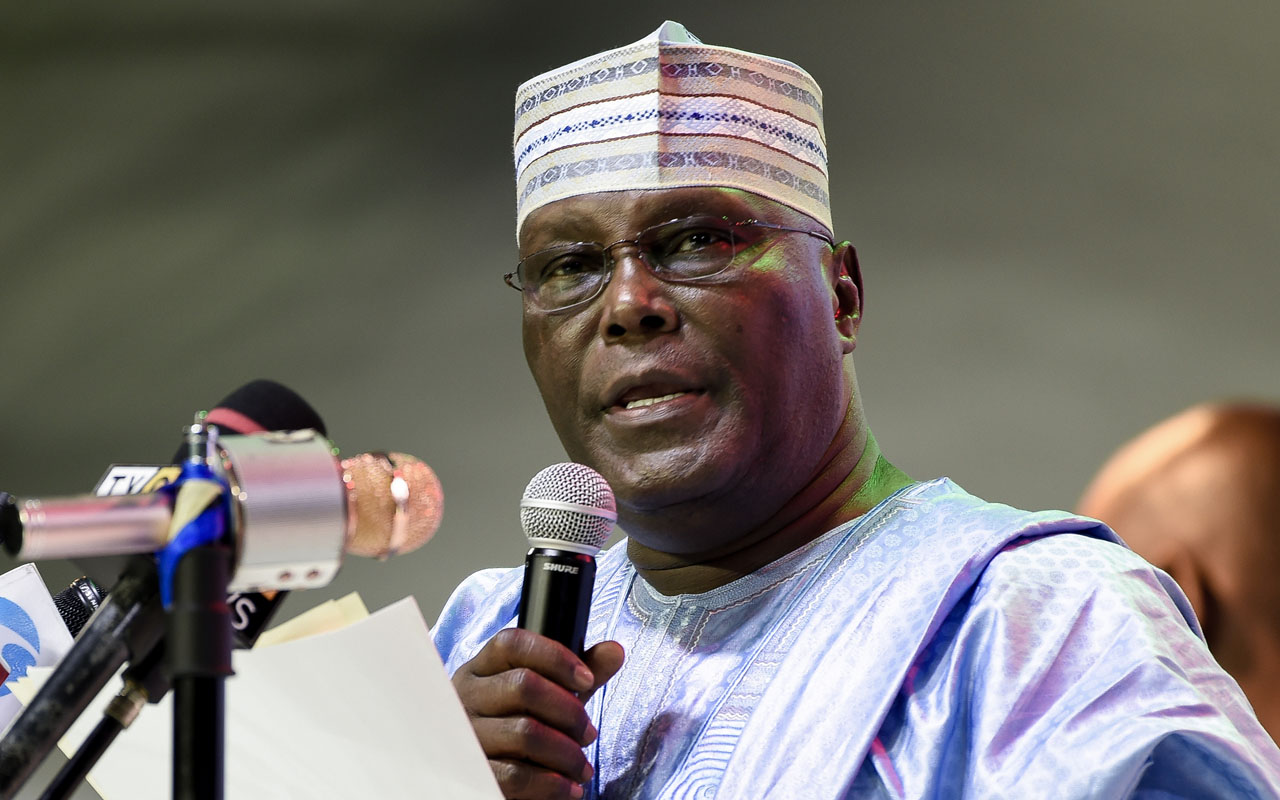 The former vice-president stated this in a statement, signed by his media aide, Paul Ibe, on Saturday.
Atiku and the PDP are challenging President Muhammadu Buhari's victory at the Presidential Election Petition Tribunal, claiming that from the data in INEC's server, he actually polled a total of 18,356,732 votes while Buhari recorded 16,741,430.
But APC urged the tribunal to dismiss PDP's petition for incompetence, arguing that Section 131(a) of the Constitution stipulates that a person must be a citizen of Nigeria by birth to be qualified to contest for the office of the President.
Atiku's statement read: "Dear citizens of our beloved country, Nigeria, His Excellency, Atiku Abubakar, told us previously that he has verifiable and incontrovertible evidence to show that the last Presidential elections were fraudulent, not credible and did not reflect the will of the Nigerian people, and he has been vindicated by the response of the All Progressives Congress and its candidate, President Muhammadu Buhari, to his petition to the Electoral Tribunal hearing the petition he filed.
"The former Vice President based his case on facts and statistical evidence and challenged both the Independent National Electoral Commission (INEC) and the APC, to disprove his factual submissions.
"The fact that the APC chose to base its defence on the ridiculous assertion that the Waziri Adamawa is not a Nigerian should show to Nigerians the type of characters we have in the APC and its government, whose legitimacy runs out on May 29, 2019.
"The position of the APC is so pedestrian and shows such straw clutching desperation on their part, that I shall not dignify it with an answer. Our lawyers would, of course, do the needful in court. But the point I want to draw the attention of Nigerians to is that both the APC and its candidate have by this infantile logic admitted to the fact that they trampled on the will of Nigerians and that their only defence is to attempt an unconstitutional redefinition of the term 'Nigerian'.
"I am, however, confident in the Nigerian judiciary, as well as in the Nigerian people. I trust that the Tribunal will treat such a claim with the contempt it deserves. We must maintain our fidelity to the rule of law and to our fountain of origin, the 1999 Nigerian Constitution (as amended).
"Atiku Abubakar has served our nation diligently in various capacities, form the civil service, where he rose through merit, to the top of his chosen field, to public service, where, by the grace of God, he was the Vice President of the Federal Republic of Nigeria.
"Moreover, he has committed his assets and talents to developing our nation through the provision of tens of thousands of direct jobs and hundreds of thousands of indirect jobs."
Atiku added that those who have made Nigeria the world headquarters for extreme poverty, are the very people whose Nigerians should be in doubt "and not a man who worked with President Olusegun Obasanjo to double the per capita Income of our nation in less than eight years."