Buhari worried over rising poverty
President Muhammadu Buhari has said he is upset with the level of poverty in Nigeria.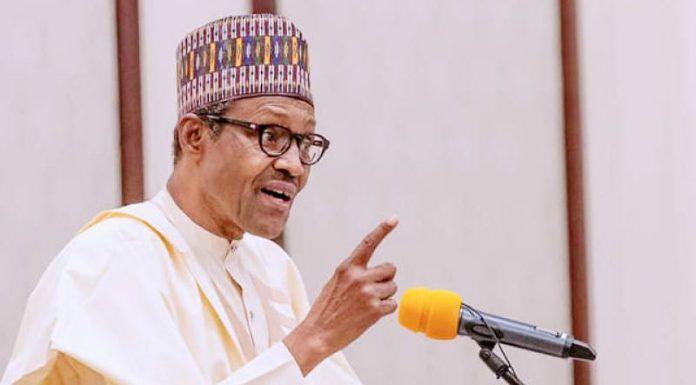 The president made his feelings known when he hosted Vice-President Yemi Osinbajo, Ministers, Service Chiefs, Heads of Security Agencies and Chief Executives of Federal Government Agencies and Institutions to a breaking of fast at the Presidential Villa, Abuja.
He also frowned at the inability of the Nigerian elites to address the welfare and educational needs of the less-privileged members of the society.
He challenged the elite to do something very urgent to ameliorate the pathetic situation.
He stated that already Federal Government had introduced people friendly programmes like the School Feeding and `Trader Money' to alleviate the hardship being experienced by the less-privileged individuals across the country.
He, therefore, commended the Vice-President for successfully managing the school feeding and `trader money' programmes.
"When I drive around the country what upset me very much is the status of our poor people in this country – you see young people, the so-called Almajiris with tore dresses, with plastic bowl. They are looking basically for what to eat.
"The question of education (to them) is a luxury. I think Nigerian elite we are all failing because I think we should have a programme that will at least guarantee some basic education for our people no matter how poor they are.
"So, I welcome the Vice-President for initiating the School feeding programme. If you check in your localities the enrolment into schools improved because a lot of children can get at least one good meal a day. This is the position of this country.
"But, culturally some of us are quiet merciless, we don't care about what happen to others we just keep on moving forward.
"This `market money' I warned the Vice-President I don't like him to be mobbed, especially the way I see hefty women coming and confronting him, he should be very careful.
"These are very good initiatives. Initially, I was quite reluctant but I must admit that they are very good programmes and they endear this government to a lot of poor people because of these N5,000 or N10,000 being given to them as loans.
They are fantastic programmes and I have to admit quite honestly that the Vice-President was ahead of me by insisting on them.
"But he knows me if he insists I will say `okay go and do what you like.' He did it and I'm very pleased as he is being very successful,'' he said.
British Prime Minister to resign
British Prime Minister Theresa May has said she will quit as Conservative leader on 7 June, paving the way for a contest to decide a new prime minister. In an emotional statement in Downing Street, Mrs. May said she had "done my best" to honor the 2016 EU referendum result.
It would remain a matter of "deep regret" that she had been unable to deliver Brexit, she added.
May will not leave office immediately. She will step aside as leader of the Conservative Party on June 7, which will trigger a leadership contest to replace her on June 10. But she will stay on as prime minister until her successor is selected.
A new prime minister was "in the best interests of the country," May said in a statement in front of London's 10 Downing Street. "It is and always will remain a matter of deep regret to me that I have not been able to deliver Brexit."
The countdown to May's departure began the moment she brought back the Brexit deal negotiated with the EU late last year, which both her party and the opposition Labour Party hated. When she put the deal before Parliament in January, MPs defeated it by a stunning margin of 230 votes — the largest defeat for a prime minister in modern British history.
May failed again on the second attempt in March. Before making her third attempt, she tried a new tactic to get her deal passed: promising to resign if it succeeded. Conservatives who disliked her more than they disliked her deal went along with it, but May still couldn't muster the votes to pass the plan that would take the UK out of the EU.
The political stalemate forced her to twice seek an extension of the original March 29 Brexit deadline to avoid a no-deal Brexit. That new deadline is now set for October 31, 2019, months after the original departure date.