PDP moves to avert factionalization
The People's Democratic Party (PDP) is moving fast to avert factions in the party over the outcome of the composition of the minority leadership of the House of Representatives. Former Senate President Aldophus Wabara has been saddled with the task of finding a lasting solution. spoke Wednesday after the committee was inaugurated by the National Vice Chairman of PDP, Mr. Yemi Akinwonmi.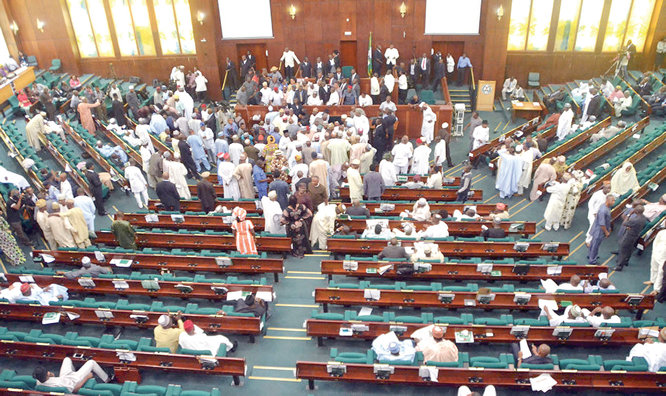 This is coming as the Senator Iyochua Ayu's committee on the House of Representatives' minority leadership crisis has invited the Minority leader, Hon. Ndudi Elumelu and his colleagues to a meeting thursday.
According to Wabara, "I arise on behalf of the members of this all-important committee, to accept your nomination on behalf of members of this committee and to accept to be the Chairman of this very important committee. Like you said, this assignment is very serious. I promise on behalf of my colleagues in the committee that we will perform our duties in accordance with the terms of reference diligently, in such a manner that our members at the National Assembly will by the special grace of God remain intact and loyal to this party.
"We will go there to ensure peace and whatever that has happened will not lead to factionalisation of the party in the National Assembly. We have men and women of proven integrity. At the National Assembly, that is where politics starts and ends. So, we will go in there and unearth what happened and even before three weeks get back to the party," Wabara said.
Earlier, Akinwonmi read out the terms of reference of the committee to include: "To investigate and find out why some of our members and senators-elect then, failed to abide by the decision of the party during the National Assembly leadership election.
Buhari says critics are not patriotic
Those politicizing insecurities are unpatriotic, President Muhammadu Buhari said on Tuesday. The President's remark came hours after former President Goodluck Jonathan said the security situation in the land was getting worse.
It also came after former President Olusegun Obasanjo gave Buhari a wake-up call on the security challenges to avert a looming calamity.
But, receiving representatives of the Buhari Campaign Organisation (BCO) in the State House, Abuja, yesterday, the President branded those politicizing the isolated cases of insecurity as unpatriotic Nigerians.
According to him, every country faces one security challenge or the other. He identified banditry and kidnapping as new security challenges in Nigeria.
Buhari said: "Your contribution during the election is commendable. Let me use this medium to assure you that you would not be disappointed because of this second term, I intend to renew efforts in securing the country, fighting corruption and strengthening the economy.
"Every country has security challenges. While we have made significant progress in fighting against terrorism, we acknowledge that there are new and emerging challenges of kidnapping and banditry.
"I assure you that we will not relent in our efforts to secure the country from criminal activities Those who politicize the isolated incidents of insecurity are not patriotic Nigerians.
"I am confident that this administration will use all the resources at its disposal to protect the lives of all Nigerians and not just prominent Nigerians but all."
Restating his commitment to stepping up the fight against corruption, Buhari said that his administration would continue to be tough on the menace.
The President said" As you may be aware, the AU (African Union) at its deliberations last year, appointed me as African Anti-Corruption Champion for the continent.
"This is because other countries have seen our dedication to fighting corruption and they are keying in to emulate our approach."
On plans to lift 100 million Nigerians out of poverty in 10 years, Buhari said the policies put in place to support farmers and small businesses were yielding positive results.
According to him, the government has a plan to integrate farmers and owners of small businesses into the larger economy.
He said: "We are keeping our currency steady and are adopting broad business policies to encourage private sector investment.
"I want to reassure you that Nigeria is open for business as no country in the world can achieve rapid economic growth without significant Foreign Direct Investment (FDI)."