Army promises adequate security for polls
The Nigerian Army has restated that its role in the rescheduled general elections starts and ends with the provision of a secure environment for the exercise.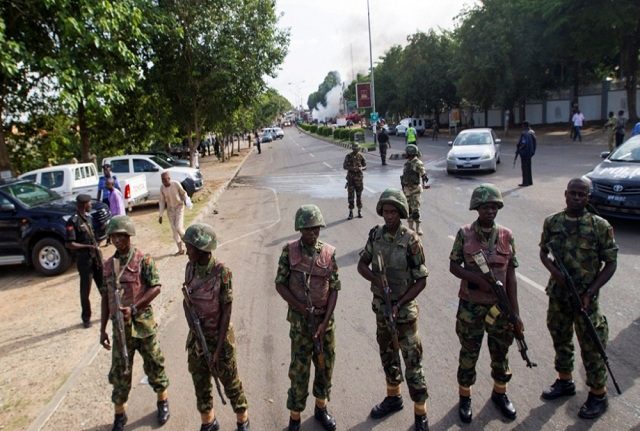 It said that none of its personnel would be involved in political campaigns or escort Very Important Personalities on political missions.
The army's spokesman, Col. Sagir Musa, said this in a statement on Tuesday.
Musa said that the Nigerian army's rules of engagement and code of conduct did not assign any political role to its personnel.
He was reacting to the alleged involvement of an officer in politics in Rivers.
The army spokesman described the insinuation as "baseless'' and urged the public to disregard it.
He said the Chief of Army Staff, Lt.-Gen. Tukur Buratai had consistently charged officers and men to uphold professionalism and be guided by the rules of engagement and the constitution.
"Therefore, any insinuation or assertion against this open declaration is not only mischievous but politically motivated with the intent to tarnish the reputation of the army which has been built on discipline and obedience to civil authorities.
"Members of the public are therefore urged to always ignore information attributed to the Nigerian army that is contrary to its core value of professionalism,'' he said.
Meanwhile, the army has vowed to deal decisively with anyone planning to disrupt the rescheduled Presidential and National Assembly elections, no matter how highly placed.
The spokesman of the 6 Division, Port Harcourt, Col. Aminu Iliyasu, gave the warning in a statement on Tuesday.
Iliyasu said that the Division had uncovered credible intelligence of "an unholy plan by some political actors within its Area of Responsibility (AOR) to arm and sponsor miscreants.''
The Division oversees Rivers, Delta, Bayelsa and Akwa Ibom states.
Iliyasu also said intelligence indicated that the political actors planned to use military-like fatigue dress for deception to cause pandemonium at polling stations for their political gain.
President Buhari appointments new DG for NESREA
President Muhammadu Buhari has appointed Prof. Aliyu Jauro as the new Director General/ Chief Executive Officer of the National Environmental Standards and Regulations Enforcement Agency (NESREA).
NESREA's Deputy Director (Information), Oyofo Sule, in a statement on Monday, said that Jauro takes over from Dr. Lawrence Chidi Anukam whose tenure expired on the 17th of February 2019.
According to the statement, Jauro, before the appointment, was Deputy Director at the National Centre for Petroleum Research and Development, Abubakar Tafawa Balewa University, (A.T.B.U) Bauchi.
He holds a Bachelor of Tech. Degree in Industrial Chemistry from A.T.B.U Bauchi and MSc and PhD Degrees in Industrial Chemistry from the same University.
He joined the university as a Graduate Assistant in 1997 and rose through the ranks to become a Prof in Industrial Chemistry in 2014.
Addressing the Management and Staff on assumption of office, the new Director General declared, "I am here to move the Agency to the next level.
"I expect high standard of professionalism, integrity and dedication to duty."
He promised to operate an open-door policy, stressing that he will bring his wealth of experience to bear in ensuring that NESREA lives up to its mandate.
He commended the acting Director General, Mrs. Miranda Amachree for the achievements recorded in her short period in that capacity.
Prof. Jauro won the German Academic Exchange Scholarship (DAAD) and the European Association of Organic Geochemists (EAOG) Travel Grant in 2005.
He is a fellow of the Chemical Society of Nigeria (CSN), as well as a member of the Institute of Chartered Chemists of Nigeria, (MICCON) and of Polymer Institute of Nigeria (MPIN).